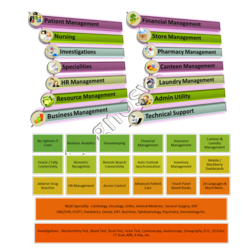 The aim was to design an all-in-one system which can be used by everyone in health care field, large hospitals, medium sized clinics, small surgeries and even a solo physician. We did not want to leave any one out
Pune, Maharashtra (PRWEB) May 31, 2013
CogHMS offers modules covering every facet of Healthcare management like Patient registration , Doctor's console, Nursing, Investigations, Radio-frequency identification (RFID), Central Sterile Supply (CSSD), Electronic Medical Records (EMR), International Classification of Diseases (ICD) , HR Management, Finance Management, Resource Management (inventories for pharmacy, surgical equipment, laundry, canteen etc.) to name a few. Module like waste management and services follow health and safety standards, while Research and knowledge base modules are aimed at enhancing efficiency and improving practices and procedures.
In-Built Business Intelligence Suite helps rein in expenses and KPI modules keep a tap on staff performance and overall hospital performance.
The specialty module offers more than 50 different specialties, while the investigation module covers all major tests.
Every module was designed after consultation and constant monitoring by experts in respective fields and IBM Certified Healthcare Professionals, enabling every module to perfectly suit the practical software needs of Health Care institutes.
CogHMS is Cloud enabled and suits medium clinics to large multi-specialty hospital chains by providing scalable solutions. With cloud enabled managed hosting, customers are saved from worries about downtime, hardware failure, backup and restore, also saving on cost of hardware servers, software licenses for the server, maintenance and scaling up as the data grows. CogHMS makes it easy to securely share information and knowledge with chain of branch hospitals and consulting doctors.
CogHMS can be also easily deployed as on premise solution. With its unique modular approach customers can pay for what they use. Even a solo physician can have a machine based solution of the entire CogHMS suite or scale elastically to from basic modules to advanced modules (such as patient registration, consultation, billing and specialties). CogHMS is designed to serve all hospital software needs, big and small.
Cognosys Technologies supports the universal declaration that decent health care is a human right. While clinics and hospitals strive to do their best to provide best possible healthcare to their patients, CogHMS is aimed to help them do it better.
About Cognosys Technologies:
Cognosys Technologies is a Red Herring Global 2012 Top 100 Winner, a Global ISV leading in Technical Consulting & Cloud Services leveraging cutting edge technologies to provide software solutions across domains with special emphasis on Storage Services, Media, Finance, HealthCare, ERP/ CRM, high performance cloud / cluster computing, complex event processing, enterprise mobile applications and creative embedded deployments. Combining extensive research with unparalleled experience, comprehensive capabilities across industries and business functions, Cognosys Technologies collaborates with clients to help them become high-performance businesses.