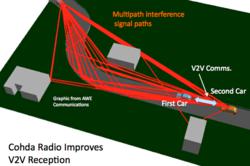 "the car industry has high expectations for their electronic suppliers. Cohda will soon open offices in the US and Europe to meet customer development needs...."
Adelaide, Australia (PRWEB) October 18, 2012
Fabien Cure's accomplishments prior to joining Cohda include launching new integrated circuit designs and growing Cambridge Silicon Radio's (CSR) Bluetooth product line for the challenging automotive market. He started as a wireless design researcher for Philips Semiconductor, now part of NXP Semiconductor, and then became the automotive product and account manager for CSR before joining Cohda Wireless. Fabien's experience in creating robust Bluetooth and WiFi solutions is much needed for creating new vehicle-to-vehicle and vehicle-to-infrastructure (V2X) products. Fabien, the newly appointed Chief Engineer, is committed to provide robust solutions to take the Ann Arbor Model Deployment to the next level, high-volume automotive production. Fabien will direct a dedicated team of engineers sharing his passion. "My experience at CSR applies to the problem of commercialization of V2X products. Cohda brought V2X technology from the lab to road trials, and now we will bring it to the carmakers and ultimately to the drivers. The industry faced a similar problem in the early days of Bluetooth and Telematics. Automakers and phone carriers were asking if Bluetooth was reliable, interoperable, secure and affordable. Today we take it for granted that our car has Bluetooth capability."
A team of skillful researchers from Australia founded Cohda Wireless in 2004, with a commitment to pioneer wireless solutions for automotive safety applications. Cohda CEO and founder, Paul Gray, states, "We welcome Fabien Cure to the Cohda design team. Governments, OEMs and suppliers selected the Cohda radio, facility and network layer to participate in major field tests of V2V, because of our superior design. More than 800 different trials were completed for as many as 15 applications around the globe covering over 17,000 km. in USA, Australia, Germany, France and Korea. Fabien's automotive product experience is much needed to take Cohda and the industry to the next level."
The Cohda technology and products are based on a WiFi-like standard, called Dedicated Short Range Communications (DSRC) and is recognized by its international standard as IEEE 802.11p. Their unique patented technology specifically addresses the most challenging problems of V2V, such as multipath interference. The Cohda network software implements the IEEE 1609 "network stack" and SAE 2735 "message library" familiar to automotive engineers.
Paul Alexander, the Cohda CTO states further, "We make WiFi work for the moving car. Our patented technology enhances radio reception; the car can see around corners when needed. The Cohda radio and supporting software uses GPS and a wireless broadcasting standard similar to Wi-Fi, called DSRC. Our MK3 radio and network software provide a complete solution for OEMs and their suppliers. We have also developed roadside broadcasting units. Today we can provide an end-to-end complete solution, being able to communicate from a Cohda MK3 radio built into the car to a roadside radio. "
The Cohda engineering team provides a superior V2X radio, and excellent customer support. Paul Gray concludes by saying, "the car industry has high expectations for their electronic suppliers. Cohda will soon open offices in the US and Europe to meet customer development needs. We provide extensive training, tailored to fit our client's needs and schedule."
For more information:
Cohda HQ, Adelaide, Australia
Paul Gray, CEO
Suite 5, 83 Fullarton Road,
Kent Town
South Australia, 5067
Phone: 61 8 8364 4719
Fax: 61 8 8364 4597
Korea Contact:
Kimy Kim
Daeryung Post Tower III #1105
182-4 Guro-dong Guro-gu,
Seoul, Korea
Phone: 82 2 2028 0774 or
82 10 8361 32
North American Contact:
Dave McNamara, MTS LLC,
Saline, Michigan 48176
Phone: 734 645 1598
Fax: 734 429 7826
About Cohda
Cohda Wireless is an equipment vendor in the Cooperative Intelligent Transport Systems (ITS) market. The company manufactures hardware products with acknowledged best-in-world performance and has developed complete software solutions (from network layer to applications layer) for this market. Cohda's hardware and software products are being used in Car-to-Car field trials worldwide today. Our customers include a large number of Car Makers, Tier One Suppliers, Automotive Chip Makers, Road Authorities, as well as New Market Entrants. Cohda's products are already in use in the USA, Europe, Australia, Japan, and Korea.