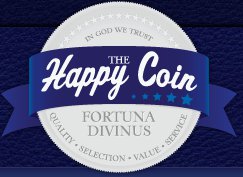 Our mission is to serve the coin collector at the highest level.
Hopewell Junction, NY (PRWEB) May 16, 2012
The Happy Coin proudly announces the launch of their online store in late April 2012, serving as a collector friendly website with varied and eclectic numismatic inventory, superior images and unmatched customer service. More than just an online retailer for hard-to-find coins, The Happy Coin hopes to provide an unparalleled shopping and coin collecting experience for visitors.
As a new online coin dealer, The Happy Coin offers a fresh and huge variety of certified coins, raw coins, casino tokens and original Hobo Nickel carvings. With low-priced coins for the occasional or novice collector, too hard to find rarities like the 1883 Liberty Seated Half Dollar in NGC Proof 67 or the top population 2000-P $1 Cheerios in PCGS MS 68.
To further provide value to the collector, The Happy Coin offers completely free shipping and free insurance for all purchases shipped to the lower 48 states. The Happy Coin is an Authorized NGC and CAC Dealer, ANA Member, as well as a Certified Coin Exchange member. The website offers an intuitive navigation system, making browsing for coins both relaxed and effective. For those new to coin collecting or the advanced specialist collector, The Happy Coin is sure to become an online resource and shopping point for affordable and unique coins. Owner Chris Moran says "we want the collector to be completely satisfied with all purchases and offer a 15 day, money back, no questions asked return privilege. Our mission is to serve the coin collector at the highest level."
Should customers need assistance or have questions regarding collectible coins, The Happy Coin is available toll free at 800-544-3750, or by e-mailing info(at)thehappycoin(dot)com. Call or e-mail anytime, as they are often working late. The staff at The Happy Coin is always available for in depth inventory descriptions and, of course, to entertain any offers and facilitate purchases.
About The Happy Coin: The Happy Coin services both new and seasoned coin collectors with an extensive selection of hard-to-find coins and commemorative pieces. From Walking Liberty Half Dollars to rare Indian Head Proofs and more, The Happy Coin carries a diverse stock of gold, silver, copper and nickel coins from various years to meet the needs of any coin collector.