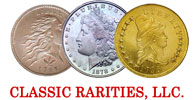 When Knowledge & Integrity matter most………deal with a name you can trust

Hamburg, NY (PRWEB) April 18, 2013
Classic Rarities, LLC is proud and excited to be celebrating 24 years being involved in western New York numismatics. Classic Rarities, LLC is a rare coin dealer located in Hamburg New York. Over the years, they have served all of Western New York and the upper Pennsylvania area with trusted silver and gold coin expertise.
John Magavern opened Classic Rarities, LLC in May 2001 after many years of being involved in local numismatics. He decided it was time to do something he was truly passionate about. As a teen he had become intrigued with rare coins and that interest never went away.
Mr. Magavern is a life member of the American Numismatic Association, the Professional Coin Grading Service, Numismatic Guaranty Corporation, Florida United Numismatists, Central States Numismatic Society, Garden State Numismatic Association, Society of Silver Dollar Collectors (Life), and the Buffalo Numismatic Association. He has been certified by the American Numismatic Association in grading coins through their summer conferences.
John is among the top rare coin dealers in the Buffalo area purchasing millions of dollars worth of rare coins and currency from thousands of satisfied customers. He deals nationally with a large network of dealers and collectors allowing him to pay you Top Dollar for your coins or entire collection. He offers both timely and courteous service with immediate payment. He attends most major shows across the US. specializing in rare early U.S. gold and silver coins.
They offer cash for silver and gold coins, dimes, quarters and halves 1964 and earlier, US and foreign gold coins, and many more. For information on all of the services they offer, please visit: http://www.classicrarities.com/
or call 716-863-9099.
About the company:
As a Buffalo NY Rare Coin Dealer John is well respected both locally and nationally within the numismatic community for Honest and Professional dealings. Being essentially a one man operation, He states "I'm not the largest dealer out there, nor do I want to be"! As a Rare Coin Dealer in Buffalo NY my many years of experience have taught me to keep service high and costs low (Helping me to pay you more for your coins)
Please visit the Classic Rarities website for more information.
http://www.classicrarities.com
716-863-9099