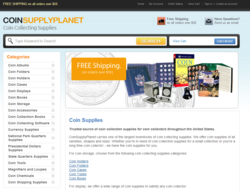 We are honored and pleased to join a select group of partners that support Numismatic Bibliomania Society
New York, NY (PRWEB) February 04, 2013
CoinSupplyPlanet.com proudly announces a year-long arrangement with The Numismatic Bibliomania Society (NBS). With prospects for a strong long-term relationship, CoinSupplyPlanet.com will sponsor ads in a number of NBS's E-Sylum newsletters as well as become one of the select companies to advertise on its website homepage.
The announcement is expected to be welcomed by the members of Numismatic Bibliomania Society as well as the general coin collecting community. "We are honored and pleased to join a select group of partners that support Numismatic Bibliomania Society," said Greg Laptevsky of CoinSupplyPlanet.com.
This announcement comes on the heels of other recently announced partnerships by CoinSupplyPlanet.com with industry-leading websites and communities. A company executive was quoted saying that CoinSupplyPlanet.com was committed to the strategy of building strong relationships within the industry and this announcement is yet another testament to that.
About CoinSupplyPlanet.com
CoinSupplyPlanet.com is an online coin supply retailer that has become a go-to destination for getting quality coin supplies for coin collectors and coin enthusiasts alike. With over 1000 products available on its site, CoinSupplyPlanet.com offers a wide variety of must-have coin collection necessities such as coin folders, coin cleaners, coin books and a wide variety of other coin accessories. Its portfolio of products includes all top coin supply brand and manufacturers. The company is based out of New York with partners and vendors located all across the country.
About Numismatic Bibliomania Society (NBS)
Numismatic Bibliomania Society (or coinbooks.org) is an industry organization first established in late 1979. It was chartered with a triple mandate: a) to stimulate interest in collecting numismatic literature through education b) to assist and encourage new collectors c) and to cultivate cooperation among collectors and researchers. It is best known for its excellent community resource library and publishing of the weekly E-Sylum newsletter.