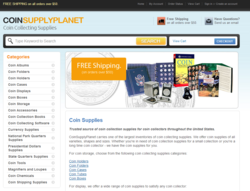 We are looking to take our partnership with CoinCommunity.com to a whole new level.
New York, NY (PRWEB) October 06, 2012
CoinSupplyPlanet.com and CoinCommunity.com announced extension of partnership into the last quarter of 2012. This marks expansion and continued growth of the media relationship first started earlier this year. While specifics of the deal were not disclosed, it is expected that the deal will have a meaningful impact on companies' bottom line. "We are looking to take our partnership with CoinCommunity.com to a whole new level," commented Ms. Khudyakova, COO of CoinSupplyPlanet.
Coin collector community is estimated to be at least 50 million people throughout the United States, Europe and Asia. Thanks to the expanding numbers of the middle-class population of coin collectors in evolving economic markets like Russia, India and China, the number of coin and paper currency collectors across the globe is set to escalate even further. In 2010, one study indicated that between 1998 and 2008, the number of collectors in the United States who bought rare coins worth $1,000 or more had tripled during that decade. All of this certainly makes perfect dollars and sense for both CoinSupplyPlanet.com and CoinCommunity.com, whose combined networking efforts will undoubtedly enhance and encourage the ongoing enthusiasm of collectors and their unceasing need for collection tools, resources, and supplies.
About CoinSupplyPlanet.com
CoinSupplyPlanet.com, with its operational base located in the New York City, has become a go-to and decidedly trusted source of coin supplies for coin collectors throughout the United States, carrying diverse inventory, providing a wide assortment of top-of-the-line coin storage products like coin albums, coin holders, coin folders, and coin cases, along with an equally impressive catalogue of products for coin maintenance, preservation and restoration. In addition, they offer a must-have variety of coin collecting books and inventory software to keep their coin collecting patrons up to date on the latest techniques, collecting tips, coin grading and mintage resources, and collection organization tools of every variety, shape, size, and made from archival-safe materials and components from the industry's leading coin supply product manufacturers.
About CoinCommunity.com
CoinCommunity.com's primary platforms are an impressive array of extremely active forums covering the complete gamut of coin collecting interests, such as US, Australian, Canadian, Ancient and Worldcoins and currency; a numismatic events calendar; dates and venues for coin auctions, shows and conventions; precious metals spot-pricing indexes, along with statistics, production and historical data from U.S., Australian, Canadian Mints. There is also a wide assortment of videos available to view, produced by the major coin auction houses, coin grading services such as PCGS, the American Numismatic Association, and the Professional Numismatics Guild.