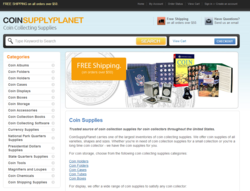 We are very excited about an opportunity to introduce the adventure of coin collecting to the new generation.
New York, NY (PRWEB) December 13, 2012
CoinSupplyPlanet announced a sponsorship partnership with CoinCommunity.com for the upcoming FUN convention in Florida. Although CoinSupplyPlanet is unable to join the FUN convention this year, with the help of their partner CoinCommunity.com, CoinSupplyPlanet will be donating 5000 units of 2x2 coin holders to the folks at CoinCommunity responsible towards organizing a fun coin giveaway for the kids attending the show. The giveaway coin packs are intended to spark both incentive and curiosity in the coin collecting hobby.
The announcement of the sponsorship on CoinCommunity.com forums was welcomed by the community members. "We are happy to help. We are very excited about an opportunity to introduce the adventure of coin collecting to the new generation." said Ms. Khudyakova, COO of CoinSupplyPlanet.
The must-go FUN show in January is well-known for being the leading 'trend-indicator' event on any numismatic convention calendar. To those in attendance - over 1500 dealers, exhibitors, Heritage Auctions, and over 15,000 of the most coin-passionate collectors across the country - the FUN show is an exciting place to be this upcoming January.
About CoinSupplyPlanet
CoinSupplyPlanet.com, with its operational base located in the New York City, has become a go-to and decidedly trusted source of coin collecting supplies throughout the United States, carrying diverse inventory, providing a wide assortment of top-of-the-line coin storage products like coin albums, coin holders, coin folders, and coin cases, along with an equally impressive catalogue of products for coin maintenance, preservation and restoration. In addition, they offer a must-have variety of coin collecting books and inventory software to keep their coin collecting patrons up to date on the latest techniques, collecting tips, coin grading and mintage resources, and collection organization tools of every variety, shape, size, and made from archival-safe materials and components from the industry's leading coin supply product manufacturers.
About CoinCommunity.com
CoinCommunity.com's primary platforms are an impressive array of extremely active forums covering the complete gamut of coin collecting interests, such as US, Australian, Canadian, Ancient and Worldcoins and currency; a numismatic events calendar; dates and venues for coin auctions, shows and conventions; precious metals spot-pricing indexes, along with statistics, production and historical data from U.S., Australian, Canadian Mints. There is also a wide assortment of videos available to view, produced by the major coin auction houses, coin grading services such as PCGS, the American Numismatic Association, and the Professional Numismatics Guild.