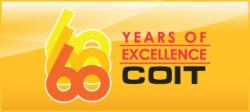 Our goal as a company is to help our customers maintain clean, healthy, and safe homes.
San Francisco, CA (PRWEB) April 23, 2012
According to the Federal Emergency Management Agency (FEMA), clothes dryers account for about 15,600 fires, 15 deaths, and 400 injuries annually. Eighty percent of clothes dryer fires in structures occur in residential buildings, and "failure to clean" is the leading factor contributing to clothes dryer fires in these buildings. In addition, FEMA notes, new home construction trends have led to the placement of clothes dryers and washing machines in areas of the home that are more hazardous, such as bedrooms, second-floor hallways, bathrooms, and kitchens.
"Lint is created when water is removed from clothes that are exposed to hot air in a dryer's drum," Bob Kearn, President and CEO of COIT, explained. "Although much of that lint is captured by the dryer's filter, some of it is inevitably carried through the venting system, where it accumulates. In the vent, lint can reduce the airflow and create a highly flammable fuel source."
Two signs that airflow might be restricted in the venting system are clothes that remain very hot after a drying cycle or the need to increase drying times for the dryer to work properly. But these symptoms need not be present for there to be a problem, Kearn said. The LintAlert™ Dryer Safety Alarm, when properly installed, alerts homeowners when air flow has become restricted. The alarm units are available at some hardware and big box stores, but they can't be installed (and won't calibrate properly) unless the dryer vents are first cleaned.
"Our goal as a company is to help our customers maintain clean, healthy, and safe homes. We see this new program as one of the most important services we offer, because it gives homeowners a one-step solution to a dangerous problem – they can have their dryer vents cleaned and their alarms properly installed during one service. Many of us grew up on the phrase 'help prevent forest fires.' It's equally important to 'help prevent dryer fires.'"
For more information about LintAlert Protection and COIT's other cleaning and disaster restoration services, call (800) – FOR-COIT or visit http://www.COIT.com.
ABOUT COIT
With more than 60 years of industry experience in the U.S., Canada and Thailand, COIT is a leading supplier of carpet, upholstery and drapery cleaning services. The company also provides tile & grout cleaning, air duct cleaning, and 24-hour emergency restoration services. COIT's impeccable reputation offers customers the peace of mind that comes from knowing every job will be done right the first time. For information about franchise opportunities, call Pat Saign at (800) 243-8797 X108.