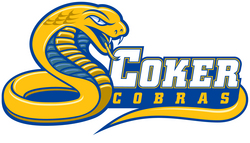 The addition of lacrosse at Coker is very exciting not only for the College, but for Hartsville
Hartsville, SC (Vocus) October 20, 2010
Coker College is pleased to announce the addition of men's lacrosse as a varsity sport for the 2011-12 academic year. Lacrosse is action-packed and employs skill sets from hockey, basketball and soccer; making it a great addition to the Coker Athletic Department.
The Cobra men's lacrosse program will begin competition in the fall of 2011.
"Adding men's lacrosse redefines our portfolio of sports teams in a manner consistent with our strategic direction," said Coker President Dr. Robert Wyatt. "It helps open new recruiting markets for us, particularly in the northeastern section of the United States. Lacrosse players typically have higher than average SAT scores and fit the student-athlete profile we desire to maintain at Coker College. "
Coker will become the seventh member of Conference Carolinas to have men's lacrosse, joining Belmont Abbey College, Lees-McRae College, Limestone College, Pfeiffer University, Queens University of Charlotte and St. Andrews Presbyterian College.
"Lacrosse is one of the fastest growing sports in the country, and currently six Conference Carolinas schools play lacrosse and are respected within NCAA Division II," Director of Athletics Lynn Griffin said. "As Coker redefines ready, it is a perfect time to introduce lacrosse to the College and to Hartsville."
According to Griffin, Coker will begin the search for a coach immediately with the hope of having one in place before the semester break.
"The addition of lacrosse at Coker is very exciting not only for the College, but for Hartsville," said Chairman of Coker's Board of Trustees Goz Segars. "Lacrosse is a sport that few in Hartsville have seen before, and we believe this fast-paced and exciting game will catch on within the community."
The Hartsville community will have ample opportunities to see the Cobra lacrosse team when they take the field in 2012 thanks to collaboration between Coker and the City of Hartsville. The Coker lacrosse team will practice and play their games on the football field at Byerly Park.
The addition of men's lacrosse will give Coker 14 NCAA Division II athletic programs.
Coker College readies undergraduates for personal and professional success through a distinctive four-year program that emphasizes a practical application of the liberal arts as well as hands-on and discussion-based learning within and beyond the classroom. Coker is ranked among the "Best Colleges" in the South by U.S. News & World Report as well as The Princeton Review. Located in Hartsville, S.C., Coker is within two hours of the cultural, financial and recreational resources of Charlotte, Columbia, Charleston and Myrtle Beach.
###