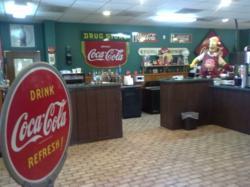 Over the years Cokers has made itself a name for high quality Texas BBQ in Arlington.
Arlington, TX (PRWEB) January 01, 2013
Cokers BBQ, an 18 year veteran of the Arlington culinary scene and one of the most popular BBQs in North Texas, has added draft beer to their menu of barbeque staples. The restaurant is now serving ice cold, 14 ounce mugs of draft Bud Light and Coors Light to accompany their fantastic brisket, outstanding links and incredible ribs. A mug costs $2.50.
"We are happy to provide this new beverage service for our customers. Having a cold glass of beer with your BBQ makes the experience just that much more perfect," enthuses Crystal Donahower, responsible for marketing with Cokers.
Over the years Cokers has made itself a name for high quality Texas BBQ in Arlington. The restaurant review website Urbanspoon has numerous rave reviews such as:
"Don't waste your time going anywhere else. I've never had sides that were so bloody fantastic at a BBQ Place! cole slaw to die for! HUGE Stuffed baked potato with enough chopped beef for 2 sandwiches only 5.99 makes Spring Creeks' look like hen eggs! All you can eat all day for 15.99! Best ribs in Texas..all their meats are A+!!"
and
"I have had BBQ all over the country. Texas, Kentucky, Minnesota, Florida, just to name a few. I have also had BBQ throughout the state of Texas. I have had BBQ at Cokers for over 12 years now. To me it is the best I have ever had. The ribs just fall off the bone, no need for sauce. The food has always been good, maybe once in 12 years I was disappointed. The owner is almost always there, he runs a tight ship, and tries to insure the food is always great. I take everyone I know there and no one has ever been disappointed. Thumbs up always."
"A nice mug of draft goes down well with our all-you-can eat special. For only $15.99 you get as much as you can eat of our main menu items - brisket, sausage, turkey, ribs, pulled pork, chicken, bologna - plus our sides of cole slaw, homemade fries, pinto beans, mac-n-cheese, mashed potatoes and gravy, potato salad, corn, fried okra, green beans, and corn on the cob. You can't beat that!" concludes Crystal.
Cokers is open from 11 am to 9 pm, Mondays to Saturdays and is located at 2612 West Pioneer Parkway, Arlington.