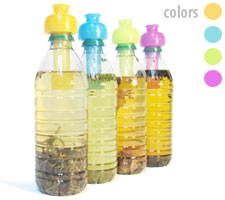 This event was a great success and the Steep & Go's and tea were very well received by all our guests!
Crested Butte, CO (PRWEB) July 31, 2012
On Saturday, July 28th, The Tea Spot teamed up with Living Journeys as they hosted their 13th annual Summit Hike and 2nd Annual Mountain Half Marathon in Crested Butte, Colorado. This event is Living Journeys' main fundraising event of the year and involves a hike to the top of Crested Butte Mountain. The Tea Spot donated loose tea and infusers to this event to support each of the participants. All of the funds raised during this event remain local and go directly into programs supporting community members suffering from cancer.
In honor of the Summit Hike and Mountain Half Marathon, The Tea Spot donated the newest products from their Steepware® line, 'Steep & Go' cold brew tea infusers, along with loose leaf tea samples for each of the 300+ participants at the event. Cold brewed tea is a natural source of antioxidants and minerals, and is great way to stay hydrated. Melissa Cunningham, Executive Director of Living Journeys, said "This event was a great success and the Steep & Go's and tea were very well received by all our guests!"
Recent winner of the 2012 Best New Product award in the Innovation Category from the World Tea Expo, 'Steep & Go' is designed for the health conscious person on-the-go and pairs with disposable water bottles and loose leaf teas to quickly and easily make cold-brewed tea. Steep & Go was developed to provide health conscious consumers a fresh-brewed bottled tea alternative, free from sweeteners and preservatives. This innovative cold brew tea infuser shifts the current paradigm of bottled tea, allowing people to make real, fresh brewed tea with fresh water in a water bottle, easily receiving all of the health benefits associated with loose leaf tea while brewing on-the-go.
The Steep & Go is available for sale online at theteaspot.com in four vivid colors- ocean, violet, green tea, and tangerine for $6.95 each. This infuser pairs with certain widely available US & European water bottles (sold separately) and will cold brew most green, white, and herbal teas within 10 minutes. The Tea Spot offers suggestions of the best cold brew teas from their line to pair with this infuser, for cold brewing within 10 minutes.
Living Journeys provides financial and emotional assistance, education and awareness to Gunnison County residents living with cancer. This assistance comes in the form of direct financial grants to cancer patients, survivors and their families to help offset costs and relieve the daily stresses of living with cancer. Living Journeys provides support to men, women and children with any kind of cancer. They also offer free individual and group therapy as well as a huge network of wellness providers who will offer their services for free or at a discount to Living Journeys' clients. To learn more about the work being done by Living Journeys please visit them online at livingjourneys.org.
The Tea Spot is a for-profit philanthropic business producing handcrafted loose leaf teas and Steepware® – the tools that make loose tea easy. The Boulder, Colorado-based woman owned and operated company was founded by Maria Uspenski in 2004. A cancer survivor drawn to the health benefits of leaf tea during her recovery, she set forth to modernize the loose-leaf tea experience. Her message is simple and powerful: tea in its freshest form renders incredible flavor, unmatched health benefits, and is eco-friendly. The Tea Spot is a Certified B Corporation and ensures that its products uphold clean, sustainable and fair manufacturing standards. The company's model of social entrepreneurship incorporates a culture of giving as it grows: ten percent of every sale made is donated in-kind to cancer and community wellness programs.