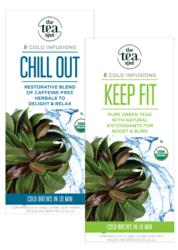 We give health-conscious consumers a fresh cold brew option for on-the-go tea in a bottle that's 100% organic with no calories, sugar, flavorings or preservatives.
Las Vegas, NV (PRWEB) June 07, 2013
The Tea Spot continues to push the envelope in cold brewing, launching a new line of loose teas at World Tea Expo and Healthy Beverage Expo at the Las Vegas Convention Center today. The line, called Cold Infusions, offers single serve loose tea packs specially formulated to cold brew fresh tea on the go in ten minutes, in chilled or room temperature water. Each Cold Infusions pack contains 0.2 oz loose leaf tea and yields up to 24 oz of fresh cold brew tea. Cold Infusions are pure certified organic leaf teas and herbals, with no added flavorings or preservatives. The new line of loose leaf teas will be showcased at the Expos today through June 9.
The launch of the Cold Infusions line of cold brew tea packs follows on the footsteps of The Tea Spot's extension into a new category of loose leaf teas and tea gifts intended to assist with weight loss last week. These lines of premium teas are in alignment with the company's mission of fostering health and wellness by making loose leaf tea an everyday luxury. Maria Uspenski, The Tea Spot's CEO stated, "One of our primary wellness objectives is to help people find attractive sugar-free and fat-free beverage options. With Americans consuming upwards of 25 percent of their caloric intake in drinks, healthier beverage choices in our diets are a must in order to help fight obesity, pre-diabetes, and many other avoidable health concerns. The time for tea to take its role as a natural and healthy beverage is now." She added "With Cold Infusions, we give health-conscious consumers a fresh cold brew option for on-the-go tea in a bottle that's 100% organic with no calories, sugar, flavorings or preservatives."
The brand launch of Cold Infusions includes two loose leaf tea products, which are packed in single serving packs, and 12-pack cases of the single serving packs.
Cold Infusions "Keep Fit" is a green tea blend specially formulated to assist with weight loss. A blend of single-estate Chinese green tea with green rooibos and lemon myrtle make this tea a metabolism booster which is light, flavorful, and 100% certified organic.
Cold Infusions "Chill Out" is a juicy 100% organic blend of caffeine-free herbal teas. This blend of fast-brewing tart hibiscus petals is naturally sweetened with licorice root and peppermint leaves. The three ingredients are blended to create a well-rounded and refreshing sugar-free hydration beverage, that's good for any time of day. "Chill Out" won second place in the 2013 North American Tea Championship, in the instant tea category.
Cold Infusions cold brew tea packs work ideally with The Tea Spot's Steep & Go cold brew tea filter. Steep & Go was a best new product award winner at the 2012 World Tea Expo. Designed for the health conscious person on the go, Steep & Go makes it easy and convenient to cold brew fresh tea in a water bottle.
Free samples of Cold Infusions and Steep & Go will be offered to attendees at The Tea Spot's booth (711) at The World Tea Expo in the Las Vegas Convention Center tomorrow, Saturday, June 9, 2013.
ABOUT THE TEA SPOT: The Tea Spot is a leading producer of handcrafted loose leaf teas and creator of Steepware® - the housewares tools that make loose tea easy. Its vision to modernize the loose leaf tea experience has held steadfast since the for-profit philanthropic company was founded by Maria Uspenski in 2004, a cancer survivor drawn to the health benefits of leaf tea during her recovery. Her message is simple and powerful: tea in its freshest form renders premium flavor, unmatched health benefits, and is eco-friendly. The company's model of social entrepreneurship incorporates its mission to foster health and wellness through loose leaf tea, with its 10% Pledge. Ten percent of every sale made is donated in-kind to cancer and community wellness programs. The Tea Spot is a Boulder, Colorado-based woman owned and operated business.