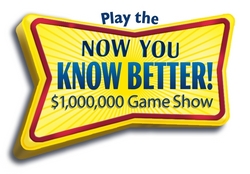 ENGLEWOOD CLIFFS, N.J. (PRWEB) February 20, 2008
WHO: Newlywed, childhood star and paparazzi favorite Gary Coleman, best known for his role as Arnold Jackson on the television show Diff'rent Strokes, admits that now he knows better. Log onto NowYouKnowBetter.com to find out why and watch Gary's online video.
WHAT: We've all done things that in hindsight, we should have known better about. Celebrities, more than anyone, wish they could make their bloopers and blunders disappear. Well, one high-profile name is now fessing up to his mistakes! Gary Coleman now knows better and will admit his faux-pas to the world in a video confessional to be released on February 20th. (Hint: It has to do with fan autographs.)
Coleman will also prove how much better he knows when he plays the new online game, aptly found at NowYouKnowBetter.com.
Compete against newlywed Gary Coleman -- and chat with him while you're at it via a live video feed -- and you could win a million dollar annuity. The Gary Coleman "Know Better Hour" invites gamers to play the I Can't Believe It's Not Butter!(R) Now You Know Better $1,000,000 Game Show live against Coleman and other "know better heads". Questions are posed by host John O'Hurley and focus on fun facts over the decades, dating back to the 1950s.
Each contestant will be entered into a $1 million dollar annuity sweepstakes (up to 5 times per day) and also have the chance to win other instant prizes, like spa weekend getaways.
WHEN: Thursday, February 28, 2008 4 to 5 pm EST
WHERE: http://www.NowYouKnowBetter.com - click on "Watch Gary Confess" to see his online video
WHY: The I Can't Believe It's Not Butter! (R) Now You Know Better $1,000,000 Game Show gives consumers the chance to showcase their knowledge about things they should know better about, including how to live a healthier lifestyle. The campaign reminds consumers that, I Can't Believe It's Not Butter!(R) Original soft spread is made with a blend of nutritious soybean and canola oils, so it has 70 percent less saturated fat than butter and is an excellent source of Omega 3 ALA. I Can't Believe It's Not Butter! (R) allows consumers to eat smarter without sacrificing the butter taste they love.