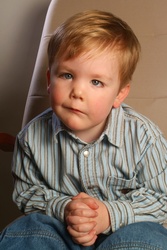 Two guys in kilts on motorcycles will be quite a sight, especially if the wind blows
NEW YORK (PRWEB) June 24, 2008
"If you are going to do an event that is going to have an impact on the way many people live their lives worldwide then you need to make it big," says Colin Davidson Read, one of the two brave hearts to embark across the vastness of America. "So where else should we do this ride than the largest and friendliest country on earth, the United States? We are looking for the biggest possible send off from our Celtic cousins across the pond and I know that they won't let us down."
Why would anyone in their right mind decide to embark on a journey across the U.S. in kilts and on motorcycles to boot, and in the middle of summer? Why, because one of those men, Colin Read, is the father of a child with the very rare Moebius Syndrome. People keep asking me why my son is so sad," says Colin, organizer of this journey of discovery and hope. "My son, George is a very happy little boy, but he suffers from Moebius Syndrome which means he will never be able to smile, he can't blink, and he has little facial expression at all."
Colin and his wife, Dionne are the founders of the Moebius Syndrome Research Trust, a Scottish charity. Their goal is to create awareness of this tragic condition in a most unusual way.
"Two guys in kilts on motorcycles will be quite a sight, especially if the wind blows," smiles Colin Read. Colin, his friend Iain Whyte and little George have all been outfitted by celebrity kilt maker Howie Nicholsby of 21st century kilts in Edinburgh, Scotland. Nicholsby has outfitted such guys as Sean Connery, Vin Diesel, James Bond star; Robert Davi, Alan Cummings and Ozzy Osbourne, in all manner of fabrics and colors.
But for the first time, Nicholsby has taken into consideration the aerodynamics and challenges in riding a bike at 70 miles per hour. He has designed a special kilt that, ahem, protects a man's modesty. Hence his new design will be a first for motorcycle riding, kilt wearing men. "People often ask what's worn under a kilt and in this case the answer is courage," says Nicholsby. And quite a sight they were as they flew down the Mass Pike at 70 miles per hour, kilts lifting in the updraft, cars slowing down, video cameras and cell phones popping out of windows, cars speeding up to get in front of the two in order to find out what is worn under a kilt. A sight to see and America will see plenty.
So get ready America! Here come the Scots in their leather kilts doing what no Scot has ever done before. "As we ride across the U.S. in our kilts, we know that we will make many friends." Both Colin and Iain feel that along their journey they will encounter many who have never heard of the condition. They hope people will offer to help in the cutting-edge research that is taking place around the world from the United States to Scotland looking for the cause of Moebius Syndrome.
On June 28th, these two intrepid Scots will mount up outside of St. Andrews Restaurant New York 120 West 44th Street in New York City at 2PM and set out across America. The fearless bikers will leave St. Andrew's pub to the sound of pipes and the roar of hundreds of motorcycles as they head across the river and into the wilderness. There will be a silent auction from 12 to 2PM on Saturday to send the boys off in style.
"We want to raise a minimum of $400,000 dollars, which works out to be about $150.00 per mile. If we can get people to RIDE FOR A SMILE on this once in a life time adventure and donate dollars for miles I know we can raise the money that will help ultimately to lead to the cause of Moebius Syndrome and from there to a possible cure," says Iain Whyte.
Join the adventure, follow the route at http://www.kiltsacrossamerica.co.uk and register to ride for smiles.
"If you blink when you see us, if you smile as we go past - think of those who can't," concludes Colin.
About George
When George Read was born in 2002 and was diagnosed with Moebius Syndrome. His parents, Colin and Dionne have never seen him smile, blink, frown or move his eyes laterally.
Muscles in George's face are paralyzed which means that although he wants to smile, the corners of his mouth can't go up at the sides. George can't move his eyes from side to side and must move his head to look around. Because he can't blink his eyes, they water constantly and are very sensitive to light. He has to wear dark glasses when outside.
Colin and Dionne co-founded the Moebius Research Trust with two other parents in 2006 in the hope that one day they will see their son smile.
In the meantime they are determined that George now five leads as normal a life as possible.
Colin and Iain will be starting their Harley engines at St. Andrew's Restaurant at 2 P.M. Then they are off Washington D.C. to pick up family, an R.V. snake bite kit and weather radio. "And look out Jay Leno, we are coming your way," says George.
TO FOLLOW THE JOURNEY:
28th June - New York to Washington D.C.
29th June - Stay in Washington
30th June - Washington to Columbus (Ohio) 395 miles
1st July - Stay in Columbus
2nd July - Columbus to St Louis (Missouri) 418 miles
3rd July - Stay in St Louis
4th July - St Louis to Kansas City (Missouri) 250 miles
5th July - Kansas City to Oakley KA 349 miles
6th July - Oakley to Denver 253 miles
7th July - Stay in Denver
8th July - Denver to Grand Junction 243 miles
9th July - Grand Junction to Grand Canyon 440 miles
10th July - Stay in Grand Canyon
11th July - Grand Canyon to Las Vegas 276 miles
12th July - Stay in Las Vegas
13th July - Las Vegas to Los Angeles 270 miles
14th July - Stay in LA
15th July - COME HOME TO BONNIE SCOTLAND
You can follow their journey and join them anywhere along their trip by going to http://www.kiltsacrossamerica.co.uk
MEDIA OPPORTUNITIES:
Colin Read and Iain Whyte will be available for interviews the week of June 22nd in New York City. Please contact Anne Macpherson. They will have their designer kilts and their accents.
JUNE 28TH: KICK OFF ACROSS AMERICA:
A special kick off event will be held at St. Andrews Restaurant on West 44th between Broadway and 7th Ave
PHOTO OPP: PIPE BANDS, MOTORCYCLES AND MORE WILL ESCORT THE SCOTS OUT OF NEW YORK CITY FROM ST. ANDREWS
JUNE 30TH: INTERVIEWS AVAILABLE WITH DIONNE, GEORGE (THE BOY WHO CAN'T SMILE) AND THE REST OF THE FAMILY IN THE WASHINGTON D.C. AREA DETAILS TBA
PHOTO OPP: COLIN READ AND SON GEORGE ON BIKES READY TO GO!
Please contact: Anne Macpherson for details
MULTIMEDIA GALLERY http://www.businesswire.com/cgi-bin/mmg.cgi?eid=5717165