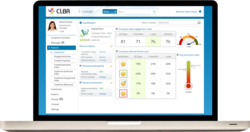 There is a clear gap in customer facing systems that focus on existing customers and the discipline of account management" Sandeep Kaujalgi, CEO of Collabor
Marlborough, Massachusetts (PRWEB) January 31, 2013
Collabor Inc, a leader in helping companies more effectively engage and collaborate with their customers, today announced the availability of Collabor CLM. Collabor CLM is a cloud based Customer Lifecycle Management solution which provides the missing link between customer acquisition and customer service. It's unique functionality combines sophisticated engagement, analytics, and decisions capabilities to increase average customer life, average customer revenue and to help companies achieve customer delight. CLM is focused on managing existing customers and can support an entire enterprise or well defined subsets of your business.
"There is a clear gap in customer facing systems that focus on existing customers and the discipline of account management" says Sandeep Kaujalgi, CEO of Collabor. "Effective management of existing customers leads to higher renewal, higher resales and takes some pressure off new customer acquisition. Collabor CLM achieves just that."
Collabor CLM consists of 3 independent but highly inter-related modules –
CLM Engage: CLM Engage is a customer engagement solution which helps companies leverage collaboration, social, analytics and customer intelligence to build and maintain their customer relationship. Key features include tracking customer activity, smart targeting of content and role based collaboration for your customers, sales teams and marketing professionals.
CLM Insights: CLM Insights makes it easy for marketing or sales executives to access key indicators on their team's marketing efforts and the resulting impact on customers at all times. Key features include metrics tailored for marketing executives and providing a complete view of your customer.
CLM Decisions: CLM Decisions is the integral third part of the Customer Lifecycle Management solution and facilitates seamless decision making for the Customer Management team. Key features include built in workflows to support Ideas, Discussions and Decisions, multi-tasking, tracking and analytics.
Collabor CLM has an easy to use content management system, is optimized for mobile access and has a rich set of API's to enable easy integration with other Enterprise Applications.
About Collabor: Collabor Inc. is a supplier of cloud based Customer Lifecycle and Customer Collaboration solutions. Founded by Sales and Marketing professionals, our products; Collabor CLM, Work 3.0 and Work 2Go, have grown out of a deep understanding of how companies and customers interact, collaborate and achieve results. Our solutions are deployed at over 75 companies around the globe, including leaders in the energy, financial services, technology and manufacturing industries. The company is headquartered in Marlborough, MA USA with offices in Hyderabad, Singapore, London and New York. For more information visit http://www.collabor.com. Follow Collabor on Twitter: @Collabor