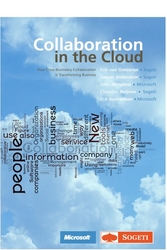 Improving collaboration between people and between organizations is no longer optional if you want to survive in today's hyper connected business world
Dayton, OH (Vocus) July 27, 2009
Sogeti, a premier provider of information technology services, today announced it will be hosting an event in the Kansas City area geared to help companies gain strategic insights about collaboration and cloud computing. The event will be held Wednesday August 5, 2009 2:30-6:30PM at the Trezo Vino Wine Bar and Bistro located at 11570 Ash Street in Leawood, KS.
The event will feature two expert speakers. Erik van Ommeren, Director of Sogeti's international research institute, VINT , is one of the authors of Collaboration in the Cloud , a book written by Sogeti and Microsoft which was released earlier this year. Also presenting will be Tom Moen, Microsoft's Technology Solutions Professional of Online Services. Moen works closely with companies to help them understand the benefits and rewards of moving to the cloud.
The event will elaborate on some of the insights highlighted in Collaboration in the Cloud and will provide practical guidance for CIOs, IT executives and Business Architects in an interactive and engaging forum. Topics to be discussed include the latest business and technology trends, collaboration as an essential component for business success, how collaboration and cloud computing complement each other, cloud computing and IT strategy, Software + Services and prerequisites for improving collaboration.
"Improving collaboration between people and between organizations is no longer optional if you want to survive in today's hyper connected business world," explains van Ommeren. "I've worked with many companies that have a hard time setting a course for Web2.0, the new economic reality, cloud computing and changes in how people work. There are great opportunities for those who know how to respond, and that is what these events are all about. I hope to provide a positive note that inspires people to action."
This event is free of charge and the content is not sales oriented.
To register for the event, please call 913-693-5942.
This event is part of a yearlong tour that is already underway--with similar events completed earlier this year in Cincinnati, Columbus, New York, Houston, Minneapolis, Detroit and Cleveland. In addition, the company plans to host additional seminars in cities this summer including Indianapolis, Des Moines and Austin.
To see the full schedule of upcoming events, visit: http://www.us.sogeti.com/about/news/events.htm.
About Collaboration in the Cloud
Web 2.0 is changing how people collaborate, crossing organization boundaries into social networks. Cloud computing is changing how IT solutions are provisioned. The two combined spell a radical shift in business and IT. In this book, co-authored by Sogeti and Microsoft, cross-boundary collaboration, the bottom up, autonomous organization and cloud computing, Software and Services are explored. This book is not technical in nature, rather it is written for IT managers.
About Sogeti USA
Sogeti USA is a premier provider of information technology services to businesses and public-sector organizations. Operating in 24 U.S. locations, Sogeti's business model is built on providing customers with local accountability and vast delivery expertise. Sogeti is a leader in helping clients develop, implement and manage practical IT solutions to help run their business better. With over 40 years of experience, Sogeti offers a comprehensive portfolio of services including Enterprise Microsoft Solutions, Enterprise Solutions Consulting, High Tech Consulting, IBM and Open Solutions and Testing/Quality Assurance. For more, visit http://www.us.sogeti.com.
About Sogeti Group
Sogeti is a leading provider of professional technology services, specializing in Application Management, Infrastructure Management, High-Tech Engineering and Testing. Working closely with its clients, Sogeti enables them to leverage technological innovation and achieve maximum results. Sogeti brings together more than 20,000 professionals in 14 countries and is present in over 200 locations in Europe, the US and India. Sogeti is a wholly-owned subsidiary of Cap Gemini S.A., listed on the Paris Stock Exchange. For more information please visit http://www.sogeti.com.
# # #