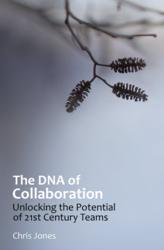 It's a book about how ideas move through organizations, exploring what causes collaboration to fail, and what happens when trust becomes counter culture.
Washington, DC (PRWEB) October 08, 2012
In The DNA of Collaboration, Chris Jones asks us to challenge our thinking, with a message that's clear, if not sobering. He believes we have lost our edge in attacking difficult problems.
"Collaboration that produces results," he says, "is harder than it looks. We need to better understand how ideas move through organizations, with an honest look at the factors that work against us."
On his list of suspects: significant gaps in focus, intention, problem definition, culture and critical thinking.
And he says that's just the short list.
Jones thinks Knowledge Management (or KM) can help. It's a business practice that seeks to capture and re-use knowledge in organizations, but Jones says KM has faced challenges. "Over time," he continues, "we've learned that knowledge workers are generally not inclined to capture or pass along their deeper insights, in part because their knowledge keeps changing, in part due to organizational uncertainties."
What's beneath all the resistance? That's the story that unfolds in these pages.
In researching The DNA of Collaboration, Jones discovered that the Industrial Age itself has been a factor. What's worked for factories (structure, control and specialization) has created problems for teams working to advance new ideas. Cultural rifts in areas like trust and risk taking often undermine KM's best efforts.
Jones says we must rethink KM's approach, attacking it from another angle. Citing the work of deep thinkers like Thomas Kuhn, Peter Senge, and Margaret Wheatley, the book says we must move from preconceived assumptions about structure to more organic notions of flow. "Kuhn would have called it a classic paradigm shift," says Jones, "and it is long overdue."
KMWorld will be holding its 16th annual conference and Enterprise Solutions Showcase in Washington, DC, October 17-19. It has become a gathering point for thinkers in the KM space. Among industry thought leaders scheduled to speak at the event are Thomas Stewart, Dave Snowden and event key-note, John Seely-Brown.
Many of these issues will be discussed at KMWorld 2012. Among the questions being raised: what makes collaboration so important?
"New ideas emerge where there is a climate of trust," Jones continues, "Ideas spark in places where people bring a desire to learn, a desire to work together to create something new. That's how change happens. It's where innovation begins." He believes KMWorld is a model for that exchange.
In commercial settings, these topics are sometimes discussed in the context of 'social business' or Enterprise 2.0, ways that can help executives re-think the scale of changes required. A Ciber whitepaper Getting Smarter, Faster co-authored by Jones provides additional insight from the enterprise perspective.
Jones also sees opportunities for collaboration on a broader scale, where small teams of skilled collaborators start taking on social problems. As evidence he points to ECOSYS, a group of 15 education stakeholders (parents, teachers, and administrators) who have been investigating K12 topics for 3 years. What have they accomplished? "We make progress at ECOSYS in small steps," he says, but then points to an extensive K12 Possibilities Wiki that reflects a deep appreciation of the many challenges in the system.
"As we learn to grapple with complexity in the world around us, we're getting better at solving problems. The important conversations are happening now; new insights are starting to flow."
Registration for KMWorld 2012 remains open.
Jones is leading the pre-conference workshop W5: Knowledge Networks and the Flow of Insights which is being held Tuesday 10/16, from 9am to 12 noon; participants will use hashtag #w5insight to share takeaways. Much of the material from his book will be discussed in this session.
The full KMWorld 2012 conference agenda runs Wednesday 10/17 to Friday 10/19. The event is at the Renaissance Washington DC Downtown Hotel at 999 Ninth St., NW. Registration information can be found at the KMWorld website.