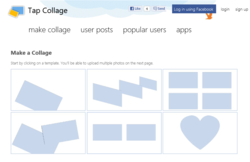 Collage maker Tap Collage lets users make photo collages that can be used to personalize 2013 calendars.
Charlotte, NC (PRWEB) January 11, 2013
Online collage maker lets users make photo collages that can be used to personalize 2013 calendars.
"Using pictures from your life to turn the calendar on your refrigerator or cubicle wall into something beautiful and personal is one of the many ways our collage maker is used," says SpiveyWorks.
Using a calendar Word template and inserting collages made using the Tap Collage website at TapCollage.com the entire process can take as little as 10 minutes. The website is free and presents users with a simple set of screens for uploading images from the computer or choosing images from a Facebook photo album. The basic set of steps is to choose a template, select images to insert and then save, copy or email the final collage.
The website's front page lets visitors browse other peoples shared creations for a source of inspiration. Examples of collages that have been shared on Tap Collage are friends posing with eachother, before and after pictures of different hair styles, fashion poses and people making collage posters of sports they get excited about. The twenty most popular collage makers can be seen by name on the Popular Users page of the website. Clicking on a popular collage maker will show a list of all the public collages they have posted.
SpiveyWorks, the company behind Tap Collage, says tens of thousands of people used the Tap Collage website in 2012. The company attributes the website's growth to "letting the user get great looking results quickly and entirely in their web browser so they don't have to install any new software." The website works in all major web browsers on PCs, tablets and other mobile devices.
SpiveyWorks Corporation is a small business based in Charlotte, NC that designs apps to empower individuals in their daily lives on whatever device they happen to be using.
Product or service names mentioned herein are the trademarks of their respective owners.