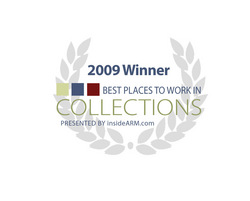 Although we have received many awards throughout the past eleven (11) years for small business and diversity growth, this award is especially important to us because it is a reflection of our business philosophy to make our associates part of building an exciting company
(PRWEB) September 30, 2009
This survey and award program was designed to identify, recognize and honor the best places of employment in the collections industry, benefiting the nation's economy, its workforce and businesses. The Best Places to Work in Collections list is made up of 25 companies divided into three size categories: Small (15-74 employees), Medium (75-249 employees) and Large (250 employees).
To be considered for participation, companies had to fulfill the following eligibility requirements:

Be a for-profit or not-for-profit business;
Be a publicly or privately held business;
Have a facility in the United States;
Have at least 15 employees in the United States;
Must be in business a minimum of 1 year;
Must be a Collection Agency, Collection Law Firm or Debt Buyer.
Companies from across the country entered the two-part survey process to determine the Best Places to Work in Collections. The first part consisted of evaluating each nominated company's workplace policies, practices, philosophy, systems and demographics. The second part consisted of an employee survey to measure the employee experience. The combined scores determined the top companies and the final ranking. Best Companies Group managed the overall registration, survey and analysis process and determined the final rankings.
Tom Gillespie, President of ACCESS stated, "Although we have received many awards throughout the past eleven (11) years for small business and diversity growth, this award is especially important to us because it is a reflection of our business philosophy to make our associates part of building an exciting company". Debra Gillespie CEO added, "We believe that every person is a partner in building our success for our clients and for our company. We work to build an atmosphere of success and entrepreneurship in order to build loyalty, job satisfaction and provide an atmosphere of opportunity.
ACCESS Receivables Management won in the small business category. It is a certified diversity business (WBE) that was founded in 1999. The company serves over 300 clients throughout the United States including "Fortune 500", Telecom, Insurance Companies and Colleges and Universities. For more information on ACCESS Receivables Management, go to http://www.access-receivables.com.
For more information on the Best Places to Work in Collections program, visit http://www.BestPlacestoWorkCollections.com.
###