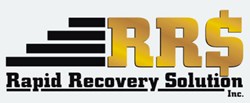 Bohemia, NY (PRWEB) June 10, 2013
On June 10, 2013, John Monderine, CEO of the debt collection agency Rapid Recovery Solution issues a statement with regard to an ongoing investigation into JPMorgan's abusive methods of collecting credit card debt.
According to a May 28th, 2013 article from Think Progress.org, "Probe of Bank Misconduct on Credit Card Debt Expands Beyond JPMorgan," allegations about financial institutions' attempts to collect credit card debts using "fraudulent and abusive" methods are gaining ground.
The article reports that members of JPMorgan's credit card collections team claim they were "instructed to sign off on erroneous documents" which would be used "as the basis for legal proceedings against consumers in default." When an individual of that team submitted a "wrongful termination suit and sought whistleblower protections", the Office of the Comptroller of the Currency (OCC) started an inquiry, prompting JPMorgan "to drop at least $45 billion worth of credit card debt collection proceedings in the spring of 2011."
Even though JPMorgan dropped their own court proceedings surrounding their suspicious, "documented debts," others note in the article that "many smaller companies exist solely to buy such debt from the big banks for a fraction of their value, then attempt to collect themselves."
According to an investigation conducted by the American Banker, "fraudulent procedures" involving important documents related to debt cases went beyond "mortgage market abuses." With regard to the housing market, there still remains evidence that "robo-signing fraud" continues to generate weak settlements, mainly due to "perverse incentives" which have helped more than hurt banks. While the OCC is broadening their inquiry "into similar wrongdoing with credit card debt collection," it doesn't mean the end result will fall in the favor of consumers.
John Monderine, CEO of debt collection agency Rapid Recovery Solution, believes this will not bode well for the financial industry as public trust is already waning. "Large financial companies continue to believe they can get away with outdated, deceptive practices. Consumers are already suspicious of these companies and will only be less willing to put their trust and assets into their care. JPMorgan is not too big to fail. They fail to see how consumers do not view their mortgage or credit card as assets, but as core components of their livelihood. The best thing JPMorgan can do is admit any misconduct in order to clear up any wrongdoing."
Founded in 2006, Rapid Recovery Solution, Inc. is headquartered at the highest point of beautiful Long Island. Rapid Recovery is committed to recovering your funds. We believe that every debtor has the ability to pay if motivated correctly. We DO NOT alienate the debtors; we attempt to align with them and offer a number of ways to resolve not only your debt but also all their debts.
#####