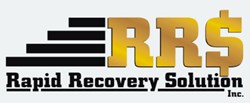 Bohemia, NY (PRWEB) June 08, 2013
On June 8, 2013, John Monderine, CEO of the debt collection agency Rapid Recovery Solution offers input on an article discussing the manipulative and deceptive tactics used by debt collection agencies in order to collect consumer debt.
According to a May 23rd, 2013 article, from Nerd Wallet.com, "Don't Let Debt Collectors Drive You Up the Wall," reminds consumers of the rights they are entitled to and their obligation to use them.
The Fair Debt Collection Practices Act (FDCPA) details actions debt collectors are barred from pursuing, such as the threat of violence, use of vulgar language, publicizing a list of debtors, and relentlessly calling a debtor. It is also illegal for debt collectors to claim themselves to be attorneys or that they are a federal or state agency.
For consumers who believe debt collectors are treading over their legal rights, Alexis Moore, a risk-management consultant with Golden Foothills Collections in Sacramento, CA, recommends documenting all communication with the debt collector and getting in touch with a risk-management consultant.
John Monderine, CEO of Rapid Recovery Solution, one of Long Island's leading commercial debt collection agencies, believes consumers should become more aware of the rights they possess and not be afraid to use and develop their voice, "Consumers have more power than they realize. Even though there is more media coverage devoted to reports about collection agencies trampling over the rights of consumers, consumers should speak up and use their rights to their advantage."
Ryan Glover, a Certified Financial Planner based in Greensboro, NC, suggests in the article that consumers who believe they are being misled should "notify a debt collector in writing to cease all communication. They must immediately cease all contact except to notify you that your notice was received or to notify you that a specific remedy will be sought in connection with the debt." If the debt collector does not comply with a consumer's request, "the penalties are quite substantial when a debt collector ignores such a request."
Monderine outlines key behaviors consumers should be on the lookout for if they believe a collection agency is engaged in illegal collecting tactics. "If a collector's behavior is harassing and they resort to using vulgar language, disguising themselves as attorneys or are defiant in complying with a consumer's request – these should all send up a red flag with you. Consumers should seek legal help if they encounter any of these scenarios."
Founded in 2006, Rapid Recovery Solution, Inc. is headquartered at the highest point of beautiful Long Island. Rapid Recovery Collection Agency is committed to recovering your funds. We believe that every debtor has the ability to pay if motivated correctly. We DO NOT alienate the debtors; we attempt to align with them and offer a number of ways to resolve not only your debt but also all their debts.
#####