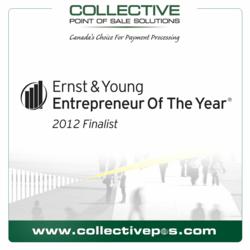 It is truly an honour to be recognized as one of the top three finalists in my category.
Toronto, ON (PRWEB) July 13, 2012
Ernst & Young has selected Michael Back, president and CEO, Collective Point of Sale Solutions Ltd., as an Ontario finalist in its prestigious Ernst & Young Entrepreneur Of The Year® 2012 Awards. Collective POS is a leading payment processor and merchant services provider.
The Awards shine a spotlight on game-changing entrepreneurs who continue to drive sustainable growth and job creation across the country. "More than a decade ago, I started Collective POS because I saw an opportunity to provide small to medium-sized businesses with faster and highly efficient payment processing solutions to help them operate more cost effectively," commented Back. "It is truly an honour to be recognized as one of the top three finalists in my category."
The Ernst & Young competition has entered its 19th year of celebrating the country's most impressive entrepreneurs from all areas of business. Award finalists are chosen based on their vision, leadership, financial success and social responsibility. "These businesspeople have done the unthinkable: they've turned ideas into realities," said Colleen McMorrow, National and Ontario Director of Entrepreneur Of The Year. "And every time they do, they raise Canadians' standard of living by creating good jobs."
Collective POS has consistently increased its hiring year over year and in the last 12 months received accolades as both one of the Top 50 Best Small and Medium Employers in Canada and one of the Best Employers in the Greater Toronto Area. "A recent Ernst & Young report stated that entrepreneurs expanded jobs in Canada — and globally — by 16% in 2011," Back added. "We are proud to be a leader in that trend."
The Ontario winners will be announced on October 10, 2012 and the top honouree will represent the region at the national gala held in Toronto, Ontario on January 16, 2013.
About Collective Point of Sale Solutions Ltd.
Founded in 2001, Collective Point of Sale Solutions Ltd., Canada's choice for payment processing and merchant services, provides entrepreneurs and owners of small- to medium-sized businesses with affordable, convenient and more customized alternatives to the debit and credit card processing services currently offered by major banks and other payment processors. With more than 70 employees, Collective POS serves more than 11,000 businesses across Canada and processes in excess of $1 billion worth of debit and credit transactions annually.
About Entrepreneur Of The Year
Entrepreneur Of The Year honours the spirit and contribution of entrepreneurs here and around the world. Nominees are reviewed by an independent judging panel composed of several distinguished business leaders and previous award recipients. The 2012 Ontario judging panel consisted of John Albright, Founder and Managing Partner, Relay Ventures; Andrew Bergstrom, Executive Vice President and Managing Director, Cossette Communications; Andrew Claerhout, Vice President, Ontario Teachers' Pension Plan; Ginny Dybenko, Executive Director, University of Waterloo, Stratford Campus; Don Morrison, Senior Managing Director and Country Head, OMERS Private Equity; David Shaw, 2010 Ontario Entrepreneur of the Year Professional Services category winner, Founder and CEO, Knightsbridge Human Capital Management; Dr. Ilse Treurnicht, CEO, MaRS Discovery District; and Claude Haw, Managing Partner, Venture Coaches.