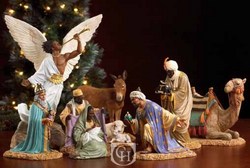 Ripon, CA (PRWEB) February 26, 2008
A shift from the traditional Nativity, Thomas Blackshear's Ebony Visions™ Holy Family figure depicts Joseph, Mary and Baby Jesus with authentic African-American characteristics. For centuries, the artwork depicting the Nativity has predominately been portrayed with characters of a more Anglo persuasion. In this romantic and subtle masterpiece, Blackshear opens viewers eyes and touches their hearts with a new vision of the birth of Christ. Fine art collectors worldwide have been anxiously anticipating this new release that's available for immediate shipment from Collector Hub.
In The Holy Family, the figure of Joseph kneels behind Mary preparing to wrap her and the baby in a blanket. His face reflects the tenderness of the moment as well as the wonder of the Christ child's birth. Mary is reclining slightly in a unique pose that is rarely, if ever, seen. "You don't usually see Joseph behind Mary," Thomas explains. "Most of the time Nativity scenes show Mary on one side and Joseph on the other. This figure brings the family together."
The first-of-four designs in the Nativity series, this compelling figure is a blend of both Art Nouveau and African culture; however this exquisite offering was not created exclusively for an African-American audience. Regardless of the color of skin, everyone shares the same emotions of faith, hope, and love. The Holy Family figure encompasses all of these sentiments. The three other designs in The Nativity series, which will be sequentially released in 2009, 2010 and 2011, include an Angel figure with a stable setting, the Wise Men, and the Shepherds. The timing of The Nativity series seems especially appropriate given the turbulent world we live in, but Thomas says, "It's always a good time to remind people about Jesus' birth."
Widely known for his dignified and uniquely powerful depictions of African-Americans, Thomas Blackshear is one of the hottest contemporary collectible artists in the world. His imaginative portrayals are full of lifelike details that transcend stereotypes and resonate with universal truths. Thomas has helped bring the African-American experience to life in a way that's never been conceived of before. A touring exhibit of his Black Heritage works premiered at the Smithsonian Institution's National Museum of American History. He has been honored with the coveted International Collectible Artist award. He has also been featured on The 700 Club, Ebony/Jet Showcase, and in The Saturday Evening Post. Blackshear has created works for Disney, Coca-Cola, National Geographic, the United States Postal Service and Universal Studios.
Blackshear works offer an exciting and profitable investment potential. "Some of Mr. Blackshear's collectibles have a better rate of return on investment than the stock market," says Larraine Covington, Community Director of Collector Hub.
Established in 2001, Collector Hub, the Internet's pre-eminent gathering place for fans and collectors of Thomas Blackshear, offers The Holy Family figure as well as other Ebony Visions sculptures, fine art, gifts, collectibles and home decor designs. As the only online community dedicated to Thomas Blackshear's art, at Collector Hub, viewers can also gather vital information from a trusted source, and become inspired as they interact with a family of collectors who share common interests.
Come visit us on the Web at CollectorHub.com.
Contact Collector Hub:
Web: http://www.collectorhub.com
Address: POB 1140, Ripon, CA 95366
Telephone: 209-599-8599
###