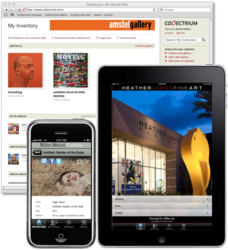 Anywhere you can take your iPad, your entire art inventory is now with you: at an art fair, in a sales office, at a restaurant, wherever you meet clients and want to showcase your artworks in the most elegant way possible.
(PRWEB) September 15, 2011
Collectrium today announced general availability of the Custom iPad Apps for Art Galleries and Dealers. With 400 million Internet users connecting to the Web through mobile devices rather than computers by 2014, the world is going mobile. Art galleries and dealers can now stay on top of this trend with their own Custom iPad Apps, powered by an award-winning mobile suite of gallery management tools from Collectrium.
The Custom iPad Apps for Galleries is an intuitive and comprehensive mobile inventory and art presentation solution backed up by Collectrium's next-generation cloud-based inventory system. Each gallery can fully customize its app, work the app both online and offline, and easily manage the app through Collectrium's iCloud artwork upload and management portal.
"Anywhere you can take your iPad, your entire art inventory is now with you: at an art fair, in a sales office, at a restaurant, wherever you meet clients and want to showcase your artworks in the most elegant way possible," explained Anna Ortt, Director at Mike Weiss Gallery. "We use our iPad app, powered by Collectrium, every day with clients at the gallery, and I can't even imagine doing an art fair without it. It's a great sales tool, and it looks beautiful."
Every custom gallery iPad app incorporates Collectrium's revolutionary ArtCapture(TM) technology, which allows a collector visiting the participating gallery to point her iPhone or iPad camera at any artwork and instantly receive the information about the artwork, the gallery, and the artist. ArtCapture technology makes the experience of visiting a gallery opening more interactive for the art lover -- enhancing the on-site visit, while also allowing visitors to "virtually" take the art home with them and share with friends. ArtCapture creates a bridge between the physical and virtual art worlds by bringing the power of technology to that live moment of discovery. ArtCapture also includes an augmented reality feature that lets a collector virtually place any artwork image from the gallery onto the actual wall in the collector's home. How well will that art piece your collector is considering buying fit with her actual home decor? -- now she can know for sure!
"The Amstel Gallery iPad app, powered by Collectrium, has proven to be a great marketing tool," said Petra Leene, Owner and Director, Amstel Gallery. "It is more effective than our web site, because it is more interactive, allowing our customers to get more information about artworks through the amazing ArtCapture technology. It is also more engaging, incorporating social networking in an ingenious way."
Named one of 'America's Most Promising Start-ups' by Bloomberg BusinessWeek (4/15/11), Collectrium is the fastest-growing cloud-based artwork management platform and the world's largest publisher of art fair mobile apps, powering over fifty international art fairs with its mobile and cloud-based technology. "With the introduction of Custom iPad Apps for Galleries, we are extending our art technology platform throughout the art market," said Boris Pevzner, the former Silicon Valley entrepreneur who founded Collectrium. "We have built a social art management system, part of the next generation of tools for organizing, discovering, sharing, promoting, and appreciating art. We are thrilled to see this system benefiting art collectors, art fairs, and art galleries worldwide."
Collectrium will be showcasing the Custom iPad Apps for Galleries with selected gallery customers at art fairs coast-to-coast this fall. In September alone, the Collectrium team can be seen at Houston Fine Art Fair (Sept. 16-18, Houston, TX), (e)merge art fair (Sept. 22-25, Washington, DC), and Pulse LA (Sept. 30 - Oct. 3, Los Angeles, CA). All these art fairs are also powered by Collectrium technology.
About Collectrium
Founded by Boris Pevzner in 2009, Collectrium is a New York-based company providing innovative technology for organizing, discovering, sharing, and promoting art on the web and mobile devices, including the revolutionary ArtCapture and virtual wall tools. Over time, the Collectrium team—which has extensive expertise in the fields of technology, finance, and the fine and decorative arts—will offer collectors and galleries integrated services for art storage, appraisals, financing and other needs.
Pevzner's business ventures are built around a deep understanding of how different kinds of communities can be enhanced and transformed through innovative technology solutions. In 2003 he helped to conceive and develop xfire, a revolutionary social networking online service ($102M exit via a sale to Viacom). He has also co-founded Centrata, a pioneer in cloud computing for enterprise-class datacenters, and conceived and developed Lontra, a leading innovator in service management of Information Technology (IT).
Pevzner is a frequent speaker at IT industry conferences, and he often serves as an advisor to senior technology executives of Fortune 500 companies on issues of IT management and security. Pevzner holds undergraduate and graduate degrees from the Massachusetts Institute of Technology (MIT). He was born in St. Petersburg, only a stone's throw away from The Hermitage.
To learn more about Collectrium, visit http://www.collectrium.com.
# # #