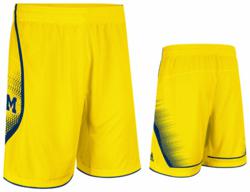 "[Michigan Youth Basketball Shorts are] great for wearing around the house or to school, so comfortable." –Valued Campus Colors Customer
Highland Park, IL (PRWEB) April 03, 2013
Whether watching at home or in-person wearing their authentic NCAA shorts it's easy for fans to be overcome by the raw emotions displayed by their team during the triumphant run to the NCAA Final Four. Faithful fans can stand by their schools, whether they cheer for the Michigan Wolverines, Louisville Cardinals, Syracuse Orange or Wichita State Shockers as they compete in fierce competition battling for the ultimate privilege of hanging a National Championship banner in their respective hallowed halls.
Success of this magnitude gets fans of all ages involved to varying degrees. Why fight it? Alums and outside supporters alike should be proud of the accomplishments of the student athletes representing their universities, and nothing celebrates the achievements of a deep run into the NCAA Tournament like Final Four apparel. Campus Colors has put together t-shirts honoring the teams participating in this year's Final Four as well as previous rounds so that supporters will remember their team's success for years to come.
Many fans must overcome geographical difficulties to properly support their favorite teams. Location is a key factor when looking to acquire college apparel, with large amounts of fan bases within close proximity of their team's campus many choose to visit the college bookstore. However, for the long distance fan that isn't an option. College basketball devotees across the country may take advantage of the Campus Colors website, and get officially licensed college apparel such as NCAA hats at the same quality as if visiting the campus in person.
Michigan Wolverines fans looking for a wide assortment of Wolverines college apparel and merchandise need look no farther than Campus Colors. From Michigan shorts all the way to jerseys and pillows Campus Colors provides the opportunity for all Wolverines lovers to get a hold of their university's authentic NCAA gear. Support the Wolverines return to the Final Four for the first time since 1993 in the best way possible by flaunting maize and blue up and down the street with Michigan college apparel.
A Final Four appearance is something to be appreciated and not overlooked even for juggernauts of the college basketball world. Fans should enjoy this priceless moment, and what better way to remember than a college apparel keepsake commemorating the team's phenomenal year like an NCAA t-shirt sporting their official logo. For more information on Final Four and college apparel please visit the Campus Colors website.
# # #
Known as "The Authentic Off Campus College Store", Campus Colors is a leading retailer of Officially Licensed, top-quality NCAA and college apparel, NFL gear, MLB merchandise, NHL apparel and NBA shorts and merchandise. With over 200 different colleges & universities represented, Campus Colors offers an outstanding selection of college sweatshirts, university t-shirts, shorts, pants, jerseys, and accessories in unisex adult, youth and women's sizes. Carrying top brands such as Nike, Adidas, Reebok and more, Campus Colors is sure to please sports fans of all ages and sizes. Learn more at http://www.campuscolors.com.