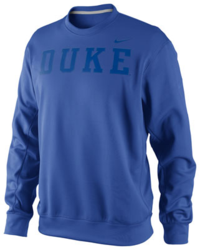 "Even after a couple runs through the washer/dryer, the [Duke sweatshirt's] fleece feels fresh each time."
–Valued Campus Colors Customer
Chicago, IL (PRWEB) May 10, 2013
The Graduation Gift Guide features everything from college shorts for the upcoming summer to college backpacks for students' first year on their new college campus. Campus Colors has something for everyone, keeping teams' most ardent supporters clad in their school colors and introducing newfound fans to the art of properly backing their team. Whether cheering for the Duke Blue Devils, North Carolina Tar Heels or Notre Dame Fighting Irish, Campus Colors believes that through their passion, fans share a common bond, and that bond is powered and amplified by college apparel from Campus Colors.
Team supporters don't have to dress up in silly costumes or paint their faces to get their respective squads fired up. College sweatshirts provide fans the opportunity to keep it casual while still letting everyone know where their loyalties lie. Support the team with a sweatshirt that is sure to keep fans warm and comfortable no matter how nervous and stressed out they are. Instead of needing hours of preparation to put together complicated outfits, Campus Colors line of casual college apparel lets students go from class straight to the game.
Every incoming college freshman needs a new section in their wardrobe for their college's apparel, and making a gift of college apparel to recent university graduates may trigger enough fond memories from their college days to last a lifetime. Take advantage of the Graduation Gift Guide and be remembered for the gracious gift of college apparel that reminds graduates of the heartfelt companionship and camaraderie they shared with friends and family while cheering on their beloved collegiate teams and student athletes. For more information on college apparel, or to check out the new Graduation Gift Guide please visit the Campus Colors webpage.
# # #
Known as "The Authentic Off Campus College Store", Campus Colors is a leading retailer of Officially Licensed, top-quality NCAA and college apparel, NFL gear, MLB merchandise, NHL apparel and NBA shorts and merchandise. With over 200 different colleges & universities represented, Campus Colors offers an outstanding selection of college sweatshirts, university t-shirts, shorts, pants, jerseys, and accessories in unisex adult, youth and women's sizes. Carrying top brands such as Nike, Adidas, Reebok and more, Campus Colors is sure to please sports fans of all ages and sizes. Learn more at campuscolors.com.