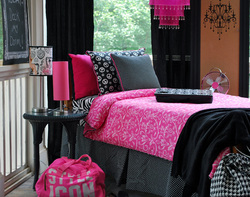 The college dorm bedding market has been limited to poor quality, mass-produced college bedding from big box retailers often in the incorrect size or expensive high-end custom bedding
Duluth, GA (Vocus) July 1, 2010
Deck My Dorm's newly released 2010 college dorm bedding collections offer 17 fresh options and an updated vision for college dorm bedding. Addressing the college student's challenge of finding bedding for the irregular sized twin beds in most college dorms, all of Deck My Dorm's bedding collections are offered in twin extra long. "The college dorm bedding market has been limited to poor quality, mass-produced college bedding from big box retailers often in the incorrect size or expensive high-end custom bedding," explains Atlanta-based designer and Deck My Dorm co-founder Jennifer Cook. Deck My Dorm collections were created to offer budget-friendly choices in college dorm room bedding that are stylish and fun without compromising on quality. All collections are available in the hard-to-find twin extra long size.
The new fashionable dorm bedding sets for girls, each with it's own unique personality, have a custom, designer look at an affordable price. "College students want to create a stylish and personalized retreat that reflects their unique style, and Deck My Dorm gives them that option," says Deck My Dorm co-founder and interior designer Jana Contardi. From the classic Marilyn Collection with its palate of pinks and chocolates to the contemporary fabrics in the Make Believe Collection, there is something for every fashion-forward college bound coed. Early customer favorites in the recently launched dorm room bedding sets include We'll always have Paris, Me Tarzan, you Jane, Audrey, Serendipity, and Love Bug. Each bedding set comes complete with a reversible duvet style comforter in twin xl and a coordinating pillow sham.
Each bedding collection has coordinating dorm decor and decorating accessories plus organizational and storage options to create a complete designer look. "After ten years in the interior design business, we realize that creating a comfortable living space involves more than just bedding which is why Deck My Dorm brings our customers so many options to accessorize," says Contardi. The large selection of affordable accessory items includes dorm lighting, wall decor and posters, laundry bags, and other college dorm essentials. Deck My Dorm specializes in decorating ideas and design tips geared toward making the most of the college student's small space.
###