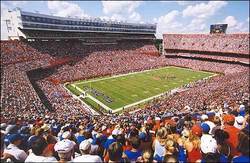 I still have a lot of question marks coming into the game Saturday, particularly because we have so many guys playing for the first time. But the guys that put in a lot of work, I think everybody in the program is ready to go against another opponent. We know what the challenge is in front of us and hopefully we'll be ready
Tempe, Arizona (PRWEB) August 29, 2008
Whether you are a Texas Longhorns fan or you root for the Penn State Nittany Lions, TicketFeeder has all of your college football ticket needs! Wish you had college football tickets to your alma mater's famous rivalry game? Go to TicketFeeder (http://www.ticketfeeder.com) or call 1-888-480-TIXX (8499), a new retail ticket outlet that provides premium seats to great shows, ball games and theater performances -- with outstanding customer service.
This fall, fans will watch the great American gridiron of college football and cheer their favorite team to victory! With the #1 ranked Georgia Bulldogs facing their first hurdle on the road to a possible national championship season, you can purchase your college football tickets college to see their September 20th game at Sun Devil Stadium against #15 ranked Arizona State which is expected to be a great test.
"We're so thrilled when the college football season kicks-off every year! It's always an exciting time for TicketFeeder, especially since we're right down the street from a major state university! You can hear the cheering at Sun Devil Stadium during every home game! We always make sure to offer the best you can find in college football tickets so fans can experience the home field event first-hand," said Tammy Thibodeau, founder and CEO of TicketFeeder.
From famous rivalries such as Texas vs. Oklahoma to Michigan vs. Notre Dame, TicketFeeder can offer the best seats to the most desirable games during the college football season. With TicketFeeder's college football tickets, you can be at the stadium when the USC Trojan riles up the crowd after the game-winning touchdown, or when the Ohio State Buckeye flips down the field during half-time!
The perennial powerhouse, Michigan, left off the pre-season in the top 25. TicketFeeder will get you into the games to see how the new coach Rich Rodriguez will fare while installing a completely new offensive system.
"I still have a lot of question marks coming into the game Saturday, particularly because we have so many guys playing for the first time. But the guys that put in a lot of work, I think everybody in the program is ready to go against another opponent. We know what the challenge is in front of us and hopefully we'll be ready," said Coach Rich Rodriguez of Michigan.
This season fans are looking forward to see who will be this year's Appalachian State. Last year this Football Championship Subdivision team (formerly Division I-AA) sent a shockwave through the country by walking into the Big House and beating Michigan. This unprecedented upset was a rallying cry for underdogs everywhere. Also, college football enthusiasts are curious to see which conference will be the strongest this year. The SEC is the early favorite and looks to be stacked! #1 Georgia, #5 Florida, #7 LSU, #10 Auburn, #18 Tennessee, #24 Alabama all in the Southeastern conference! Don't miss the games everyone will be talking about, get your college football tickets today!
Check out TicketFeeder.com for all of the best college football tickets to your favorite games, and enjoy the thrill of the crowd, the pride of singing your school's fight song and cheering your team to victory this season!
Arizona-based TicketFeeder provides access to the nation's largest secondary ticket market, and strives to provide the highest level of customer service possible. Their 100 percent guarantee and their reputation with the National Association of Ticket Brokers give customers peace of mind when purchasing their tickets to sporting, concert or theater events at http://www.ticketfeeder.com or by calling 1-888-480-TIXX (8499).
# # #