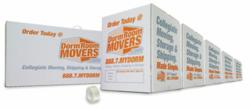 Students at these campuses can enjoy full service moving, shipping and storage services that Dorm Room Movers offers.
Scottsdale, AZ (PRWEB) December 20, 2011
Over the past 4 years, Dorm Room Movers has grown its operation to serve college and university campuses across the country, and is announcing its expansion to include a total of 33 colleges and universities nationwide.
Students at these campuses can enjoy the full service moving, shipping and storage services that Dorm Room Movers offers. "We are thrilled to offer such an extensive list of campuses this year and look forward to serving the moving, storage & shipping needs of as many students as possible," commented Leor Lapid, co-founder of Dorm Room Movers. Students at every school in the country can currently benefit from the company's Ship to School service which allows customers to easily ship items to any college through Dorm Room Movers' streamlined process.
To handle the increased operational volume, the company is partnering with 14 professional logistics providers in the regions local to the new campuses. They have also trained 15 Customer Services Representatives to assist in the influx of volume and plan to add at least two full time Operations Managers during the high season. These team members will ensure the successful move-out, storage and delivery of the students at the new campuses. In addition to the new staff, upgrades to the website including a fully revamped communications platform will aid in serving the 2500+ additional customers expected to register for the services.
The campuses served include:
Amherst College, Arizona State University, Auburn University, Carnegie Mellon University, Colby College, Connecticut College, College of Wooster, Evergreen State College, Georgia Institute of Technology, Hampshire College, Johns Hopkins University, Lafayette College, Lehigh University, Loyola University - Baltimore, North Carolina State University, Northern Arizona University, Pacific Lutheran University, Purdue University, The University of Texas at Austin, Trinity College, University of Alabama, University of Arizona, University of Colorado at Boulder, University of Iowa, University of Massachusetts Amherst, University of Mississippi, University of Missouri - Columbia, University of Oregon, University of Puget Sound, University of Rhode Island, University of Wisconsin-Madison, Vanderbilt University, Wesleyan University.
For additional information regarding the campuses served and to discuss marketing, partnership or employment opportunities with Dorm Room Movers please contact info(at)dormroommovers(dot)com or visit http://www.dormroommovers.com
About Dorm Room Movers:
Dorm Room Movers was founded in 2007 with the goal of simplifying moving, storage and shipping for college students. With its full service Summer Storage, Ship Home, Ship to School, Study Abroad Storage and Direct Local Moves, the company has assisted thousands of students across the country. Since inception, the company has shown rapid and consistent growth, adding new services and markets each year.
###