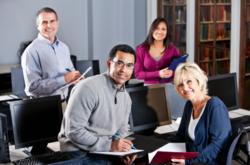 Los Angeles, CA (PRWEB) January 15, 2013
The National Financial Educators Council has developed a draft of the 'College Prep Financial Education Standards' and calls upon industry experts to participate in the completion of these guidelines. The overall goal of the Standards is to provide a clear personal finance curricula framework for educators that ensure specific lessons are taught to college bound students prior to signing student loan documents.
In collaboration with industry experts, the NFEC has outlined an initial draft of the College Prep Financial Education Standards to serve as a framework for those teaching college bound students personal finance. The NFEC seeks additional input from those passionate about improving the financial capabilities of our youth to refine these standards. Share your experience, creativity, knowledge and personal finance expertise to influence college bound students personal finance guidelines.
The current Federal Student Loan program has high school students make decisions that will significantly impact their finances before they receive any personal finance training. The student loan market has ballooned in size to over $1 trillion, and this debt load is already negatively impacting the U.S. economy. The student loan debt problem not only impacts individuals but also the country as a whole. The National Association of Consumer Bankruptcy Attorneys(NACBA) states, "America faces the very real possibility of another major economic threat on a par with the devastating home mortgage crisis."
The NFEC is mobilizing to proactively address this problem on several fronts. Drafts have been created of the College Prep Financial Education Standards and the College Student Protection and Financial Education Act. In addition, a high profile awareness campaign is launching along with a petition website to give advocates a way to join others to have college bound students complete personal finance coursework prior to committing to student loan debt.
"We seek your input on the College Prep Financial Education Standards to encourage responsible borrowing that protects our country and give youth the opportunity to achieve their personal American Dream," states Vince Shorb of the National Financial Educators Council. The NFEC encourages your comments on the financial education guidelines by visiting their financial literacy blog site where comments are gathered.
The National Financial Educators Council is on a mission to improve the financial capability of citizens across the country. The NFEC has partnered with leaders in the personal finance industry to raise awareness for the financial literacy movement. The NFEC's social enterprise business model ensures that complimentary resources are made available to organizations that want to teach college personal finance.