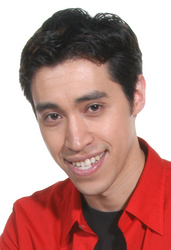 Ben Kaplan won two dozen college scholarships worth $90,000—enough to attend Harvard University virtually for free. Since then, he has saved tens of thousands of families more than half a billion dollars over the past 10 years.
Portland, OR (PRWEB) September 28, 2010
Ben Kaplan has an unprecedented mission: To show millions of students and parents how to win college scholarships, maximize financial aid, and make their educational dreams come true. It's a cause close to his heart: While a high school student, Kaplan won more than two dozen scholarship awards and accumulated nearly $90,000 in scholarship funds—enabling him to attend his dream school, Harvard University, virtually for free.
Now an acclaimed speaker, scholarship coach, and bestselling author of 'How to Go to College Almost for Free,' Kaplan has created the groundbreaking 'College Almost for Free' online camp to help students of every age and their parents fund their college dreams. Camp participants start out by watching live streaming video at the http://www.CityofCollegeDreams.org website... including sessions on winning college scholarships, supersizing financial aid, slashing student loans, saving on related expenses, and getting admitted to dream colleges or grad schools.
Next, camp participants complete easy-to-follow tutorials, ready-to-go forms, and helpful worksheets that guide them through each important college money task. If they still have questions about their unique financial aid issues, they can simply login to weekly group chat sessions to get answers directly from Kaplan.
The interactive camp format is ideal for current high school and college students--plus adult non-traditional students returning to school. Students and parents are encouraged to participate in the camp sessions as a family team.
"I came to Ben and his 'College Almost for Free' camp without having any idea what it would be like," says Ari Girelli, a student from Glastonbury, Connecticut. "Ben turned out to be one of my most valuable resources. My essays improved tremendously… and he helped me with multiple ones. He was also able to give me information on scholarships that totaled over $40,000. I would recommend him to anybody, whether they think they are all set with applications or not. It's incredible what he can do to improve the perceived value of a student."
By participating in the 'College Almost for Free' camp, families can potentially increase their college money resources by tens of thousands of dollars--plus get their dream colleges to roll out the admissions red carpet. The camp is currently available at http://www.cityofcollegedreams.org/camp for the special introductory price of $69.95.
ABOUT BEN KAPLAN
Ben Kaplan is one of the nation's leading experts on college scholarships and financial aid, student success, career planning, and youth personal growth topics. He has saved tens of thousands of families more than half a billion dollars over the past 10 years.
Kaplan has authored 12 best-selling books and CDs, including 'How to Go to College Almost for Free' (HarperCollins Publishers), the leading book in the genre with more than 400,000 copies in print. Now age 33, his popular "Live & Learn" education column was launched in The Oregonian (Portland's daily newspaper) in 2006. In 2008, he launched a companion radio feature on KMOX-AM, the #1 rated station in St. Louis. Both are now syndicated nationally.
Kaplan is also the founder and publisher of CityofCollegeDreams.org, a leading online destination for college funding strategies and admissions advice. Additionally, he serves as a consultant to Fortune 500 companies looking to create corporate scholarship programs and branded community outreach efforts. More than 250 financial planners, accountants, and insurance agents license his college planning materials for use with their clients.
Kaplan has appeared on more than 2,000 TV and radio shows, including 'Oprah,' 'Good Morning America,' NBC, CBS, ABC, CNN, and NPR. He was selected the "Top Student Leader in America" by the National Association of Secondary School Principals. He currently resides in Portland, Oregon.
To set up a media interview with Ben Kaplan, please contact CityofCollegeDreams.org at (503) 345-4358 ext. 50 or submit an online request at http://www.cityofcollegedreams.org/contactus.
###