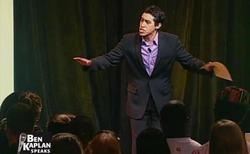 With the energy of a sports event and the attitude of a rock concert, Ben Kaplan's high-octane live presentation gets attendees up out of their seats, having a great time making their college dreams happen.
Portland, OR (PRWEB) October 12, 2010
The results are in: After a successful pilot project at Utah's Weber State University, Scholarship Coach Ben Kaplan will bring his groundbreaking 'Awaken Your College Dreams' live presentation to high schools and colleges nationwide as part of a 2011 speaking tour.
In creating the new presentation, Kaplan drew upon his personal experiences winning two dozen college scholarships worth $90,000—enough to attend his dream school, Harvard University, virtually for free. Now age 33 and the best-selling author of 'How to Go to College Almost for Free,' Kaplan's presentation covers the following topics:

10 Things I Wish I Knew as a Student
College is Awesome: How the Right School Can Change Your Life
If Paying for College is a Game, These are the Rules
College Almost for Free: A Scholarship Action Plan
What Should I Do? Finding Your Path to Career Fulfillment
For his 2011 tour, Kaplan will be visiting more than 25 U.S. states, including notable stops in New York, Massachusetts, Pennsylvania, Illinois, Wisconsin, Florida, Texas, California, Washington, Hawaii, and Oregon. The events are suitable for high school students, college students, and graduate school students, as well as parents and other interested family members.
High schools, colleges, and TRIO programs interested in hosting a presentation should visit http://www.CityofCollegeDreams.org/services/speaking-inquiries for more information. Special discount pricing is available until Dec. 31, 2010.
PILOT PROJECT RESULTS FROM WEBER STATE UNIVERSITY
In developing his new 'Awaken Your College Dreams' presentation, Kaplan tested new material at Weber State University in Ogden, Utah. Following the presentation at Weber State, students were asked whether they agree (strongly agree, moderately agree, neither agree nor disagree, moderately disagree, or strongly disagree) with the following statements:
"I found Ben Kaplan to be engaging."
--94% strongly agree, 6% moderately agree

"I learned at least one concept that I can apply to my life."
--94% strongly agree, 6% moderately agree

"I can identify the steps to creating a scholarship action plan."
--82% strongly agree, 18% moderately agree
Additionally, event organizers collected the following responses from individual students:
"This was my absolute favorite part of the conference. I enjoyed watching and listening to Ben Kaplan. It was like watching a movie. He is really awesome and he really got me motivated and thinking."
"Wow. Ben Kaplan was amazing and now I feel that I can apply and succeed in scholarships no matter how many times I need to apply. It was great to find more ways to fund school besides financial aid."
"This breakout session had an amazing speaker (Ben Kaplan) that gives very valuable information which I plan to put into action."
For more information about how to bring Ben Kaplan's live presentations to schools in your area (including availability, discount pricing, and customization options), please visit: http://www.CityofCollegeDreams.org/services/speaking-inquiries
ABOUT BEN KAPLAN
Ben Kaplan is one of the nation's leading experts on college scholarships and financial aid, student success, career planning, and youth personal growth topics. He has saved tens of thousands of families more than half a billion dollars over the past 10 years.
Kaplan has authored 12 best-selling books and CDs, including 'How to Go to College Almost for Free' (HarperCollins Publishers), the leading book in the genre with more than 400,000 copies in print. Now age 33, his popular "Live & Learn" education column was launched in The Oregonian (Portland's daily newspaper) in 2006. In 2008, he launched a companion radio feature on KMOX-AM, the #1 rated station in St. Louis. Both are now syndicated nationally.
Kaplan is also the founder and publisher of CityofCollegeDreams.org, a leading online destination for college funding strategies and admissions advice. Additionally, he serves as a consultant to Fortune 500 companies looking to create corporate scholarship programs and branded community outreach efforts. More than 250 financial planners, accountants, and insurance agents license his college planning materials for use with their clients.
Kaplan has appeared on more than 2,000 TV and radio shows, including 'Oprah,' 'Good Morning America,' NBC, CBS, ABC, CNN, and NPR. He was selected the "Top Student Leader in America" by the National Association of Secondary School Principals. He currently resides in Portland, Oregon.
To set up a media interview with Ben Kaplan, please contact CityofCollegeDreams.org at (503) 345-4358 ext. 50 or submit an online request at http://www.cityofcollegedreams.org/contactus
# # #