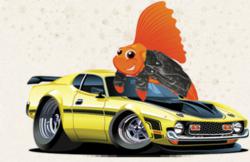 Yes, this is a big step in terms of making sure kids don't have access to credit cards before they're ready.
Newark, NJ (PRWEB) February 22, 2013
RoadFish.com men's lifestyle and finance magazine today released their statement regarding the recent legislation to ban credit card companies from directly marketing to college students on public campuses in New Jersey being signed into law. Jersey Governor Chris Christie signed off on the law, which as a bill had been introduced by Senator Kevin O'Toole every year since 1998 with no resolution. RoadFish.com applauded Gov. Christie and believes that the new law will do much to help the financial well-being and credit of college students in the state.
According to Senator Kevin J. O'Toole's website, the legislation which he has backed for years to ban credit card companies from soliciting college students on public New Jersey campuses was finally signed into law by Governor Chris Christie on February 7th. The law was formerly known as S-2303, and is a premise that O'Toole believes in strongly. He is quoted as saying, "Credit card debt and student loan debt are rampant issues in our society. College campuses shouldn't be a breeding ground for both problems."
RoadFish.com agrees that debt of both kinds are major issues in the U.S., and fully supports the new law—hoping that other states will follow suite. RoadFish.com's Senior staff writer is quoted as saying, "I think this poses a good opportunity for students to start college off on the right foot in terms of finances, rather than being handed a credit card--which, to a college student, is a brand-new and very desirable prospect, one that may seem free of consequences at first but can do major credit damage if misused. What college kid is going to say no if a credit card company is camped out on the lawn of the school library, offering T-shirts, Frisbees, and a no-fee credit card? To a college kid, that's a no brainer. And to parents, that's a nightmare waiting to happen. Yes, I am glad that companies won't be allowed to promote credit cards in this manner anymore. Hopefully other states will jump on this bandwagon and pass similar legislation to rule out the issue nation-wide."
In a Philly.com article by Jonathan Lai, Assemblywoman Celeste Riley supports the new because she believes that students feel pressured by "predatory soliciting" on their campuses done by credit card companies. Riley states that they use campus displays or even alumni association partnerships to appeal to students, and students will go for it because of the convenience. Her feelings echo O'Toole's, as she states, "These kids are carrying enough debt through student loans, through whatever costs they have for education." Lai reports that it was Assemblyman David Russo who had introduced the bill every year since 1998 without it actually being resolved until last week. Russo states that the bill came about because parents had actually complained to Russo's office about their college kids' credit card bills, and it turned out that the credit card companies weren't requiring proof of employment or income—as is generally the practice when a consumer applies for a credit card—rather they were most assuming that the students' parents would pick up the tab for their kids' bills. Russo is quoted as saying, "[Companies] were giving out, in essence, free credit cards, and they weren't controlling them. The parents were complaining that these kids were getting their credit ruined at an early age."
RoadFish.com was clear that even though credit card companies will no longer be allowed to advertise their product on campuses, the battle to instill good financial habits in college-aged kids is not over. RoadFish.com's Senior staff writer is quoted as saying, "Yes, this is a big step in terms of making sure kids don't have access to credit cards before they're ready. But it's not the be-all-end-all to the problem of college kids emerging from school neck-high in debt. Many parents might just sit back and sigh a breath of relief now that credit card companies aren't allowed to solicit on campus, but that's the wrong mode of action. Parents need to get involved in teaching their children good financial habits before they even leave the house, so that when they hit the 'real world,' they're ready. They need to go over things like debt, making timely payments, what credit is and why it's important to keep track of their credit report and maintain a good score. Parents should lead by example, and keep monthly budgets so that kids get comfortable with them and can keep their own. Trust me, managing personal finances doesn't come naturally to most people; it's something that need to be taught. And who better to teach it than the parents of these young people?"
According to the above-mentioned Philly.com article, the new law will now limit public colleges in New Jersey from getting into agreements which would allow college students to be targeted in "direct merchandising of credit cards." Universities such as Rutgers and Rowan are included in the colleges that fall into this law.
About RoadFish.com:
RoadFish.com is an online men's finance and lifestyle publication that is geared towards moderately successful gentlemen in their 30's and 40's. RoadFish.com goes over topics such as mens dating advice, hot chicks, luxury items and other lifestyle pieces. The popular publication also gives financial advice to readers such as how to keep a budget, and reports on the latest financial news such as a new bill to limit employers' ability to run credit checks on potential new hires. RoadFish.com is owned and operated by Purpose, Inc.