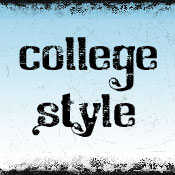 Because College Style is geared to college-aged students, it's important that college students write and edit the posts themselves
Atlanta, GA (PRWEB) June 14, 2011
College Style (http://www.college-style.com) is an up-and-coming online blog written by college students concentrating on the realities of college life, the latest news in style and fashion, style inspirations from across the globe or from across the street and dorm decorating tips and trends.
College Style's writers and editor are students attending universities around the country. Writers are given the opportunity to express creative freedom by choosing their own topics, stories and often submitting their own original photography. College Style has future plans to regularly feature guest bloggers from international countries or who have certain expertise in subjects of interest to this demographic.
College Style was created as a sister site to Deck My Dorm, a unique e-commerce retail site specializing in college essentials including girls dorm bedding and dorm decor, wall art and college essentials. Both College Style and Deck My Dorm were started by co-founders Jennifer Cook and Jana Contardi. Cook and Contardi also created Peace, Love & Decorating featuring the latest in home decor and home accessories, designer home lighting, vintage-inspired boutique jewelry from top jewelry designers, holiday decorations and girls teen bedding.
After Cook and Contardi realized they remembered little about college life from their college years, the pair handed the blog over to the current editor, Lindsey Cook, a journalism student at the University of Georgia.
"The changes in leadership are helpful to College Style's overall aim," said co-creator, Jana Contardi.
Continued Jennifer Cook: "The blog is geared to college-aged students so it's important that college students write and edit the posts themselves since they know their audience best."
Now, the blog features regular posts about international fashion inspiration, current style trends and obsessions, and the truth about important college milestones such as freshman orientation and rush from staff writers who experience them alongside upcoming freshmen readers.
Editor Lindsey Cook thinks adding an upcoming high school senior and soon to be college freshman as a staff writer completes the blog's mission of detailing the whole college experience from the application process to graduation.
"We were really pushing to have a high school senior and soon to be college freshman on staff," said Lindsey Cook. "The firsts of college years can be completely frightening and we think having someone on staff that can help students learn what to expect at big events like the first day of classes gives us a big boost above other blogs aimed at college students."
The growing team of writers and guest contributors are stylish, fashionable and passionate about issues pertaining to this age group. They seek to serve as guides to students in their college years for all things from clothing choices to relationship problems.
College Style is always looking for additional college-aged students who possess these qualities to write for the blog. If you are interested in applying to write for College Style, please email your resume and a sample of your writing to info(at)college-style(dot)com.
###