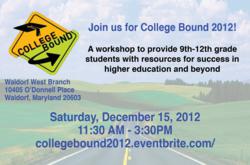 We want participants to realize that there is support and resources to guide them during each step. We hope participants can address any fears or concerns they have about college in a positive and intimate environment
Waldorf, MD (PRWEB) December 12, 2012
The College Bound 2012 workshop, taking place on Dec, 15, 2012 in the Waldorf West Branch Library in Southern, Maryland, is being presented by Future Next Corporation (FNC). This workshop will provide local students and families with guidance and resources for education after high school. Sessions will include personal branding, financial aid and scholarships, career planning, a young professionals panel and a speed networking session with local college students.
The workshop is designed to have an interactive format that will allow students and parents to get answers that are specific to their unique situations. Speakers will address concerns about the college process in an attempt to make applying to college seem more accessible and possible for everyone. "We want participants to realize that there is support and resources to guide them during each step. We hope participants can address any fears or concerns they have about college in a positive and intimate environment," said FNC Director of Programming, Natasha Wilkerson.
Future Next Corporation, also known as (FNC), is a 501 (c) (3) non-profit organization, which provides resources, support, and guidance to children and teenagers ages 4 through 20, as well as their families. FNC is most commonly known for providing unique year around tutorial and enrichment programs in Southern Maryland for the area's most vulnerable youth. Founder and executive officer, Nicole Thomas, has already seen her organization making an impact in the community in its short two years of existence. "We have received so much positive feedback from parents and students in previous FNC programs. Parents appreciate the individualized attention that students receive and the effort that volunteers make to bring low or no-cost programs to our local community," she said.
About Future Next Corporation
FNC creates a safe, fun, and nurturing environment at the most crucial hours when children are most vulnerable: after school and in the summer months. FNC encourages and supports children and teens' academic levels, self-esteem, confidence, self-expression, and leadership skills through interactive and entertaining programs. Our desire is that we will play a role in encouraging youth development both inside and outside the classroom so they may overcome obstacles and environments to fulfill personal goals and graduate from high school and move on to earning a higher education degree. To learn more visit: http://collegebound2012.eventbrite.com/#