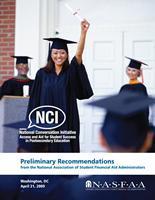 National Conversation Initiative Preliminary Recommendations
Washington, DC (PRWEB) April 23, 2009
President Barack Obama recently announced the administration's goal for the United States to have the world's highest proportion of college graduates by 2020. To assist in this effort, the National Association of Student Financial Aid Administrators (NASFAA) provided the administration with a framework of integrated recommendations for student aid reform on Tuesday. NASFAA's report, "National Conversation Initiative Preliminary Recommendations," synthesizes its findings from a year-long effort to gather input from thousands of financial aid professionals, the advice of public policy experts, and data from more than 40 related research studies.
Improving America's financial aid system is critical to increasing the percentage of college graduates and ensuring its future economic success. Unfortunately, the fastest growing portions of the American population are the least likely to attend and successfully complete a higher education program. These students also face greater financial barriers to higher education. Financial aid plays a crucial role in helping these students to earn a college degree, but the current aid system does not offer sufficient aid, and is so complex that it is hard for families to understand and successfully navigate, sometimes even presenting a barrier to those that most need help.
"We have a unique opportunity to significantly increase the percentage of Americans who graduate from college," said NASFAA President and CEO Dr. Philip Day. "Adopting NASFAA's recommendations would create a more effective financial aid system that will enable more Americans to pursue and accomplish their higher education goals."
If enacted, NASFAA's recommendations will significantly improve the effectiveness, efficiency, simplicity, and equity of the student aid programs by:

Providing significant increases to aid programs that have a proven track-record of increasing college access;
Consolidating existing duplicative aid programs and eliminating ineffective programs to better serve students;
Removing unnecessary complexity from the application process and giving students and families the ability to predict and understand their financial aid awards; and
Targeting financial aid to the students who need it most and eliminating their need to seek financing outside of the federal aid programs.
"NASFAA shares the Obama administrations' goal of dramatically increasing our number of college graduates, and we agree that bold changes are needed to realize this goal," Dr. Day said. "If we continue business as usual, we risk falling behind in the future global economy and widening gaps between the haves and the have-nots. While the cost of enacting these changes may appear significant, the cost of not implementing them will be devastating to our national economy, our citizens, and for the millions of families who are desperately trying to escape the bonds of poverty."
Summary of recommendations
The following is an abbreviated list of the recommendations developed by NASFAA through the NCI process. The full list of recommendations appears in the report.

Significantly simplify the federal student aid application process by eliminating unnecessary application questions, allowing families to initiate the financial aid application process through the federal income tax system, and allowing the neediest students to automatically qualify for maximum aid.
Expand and simplify grants by setting and indexing the maximum Pell Grant award to 70 percent of the average costs of in-state tuition, fees, room, and board at four-year public colleges and universities, eliminating less effective programs like the ACG and National SMART Grant programs and rolling those expenditures into the Pell Grant.
Improve financial aid predictability and portability by making it possible for families to understand what aid is available to them well in advance, regardless of chosen school.
Create a single, new student loan program that combines the best aspects of the Direct Loan, Federal Family Education Loan, and Perkins Loan programs.
Subsidize student loan borrowers during repayment - instead of while they are in school - and decrease student loan burden by strengthening the Income-Based Repayment program so students never pay more than 10 percent of their discretionary income and loans are forgiven after 20 years of repayment.
Create a grant program for graduate students in high-need job areas as defined by states.
Eliminate certain tax benefits that have little impact on increasing college access, repeal taxes on all forms of student aid like scholarships and loan forgiveness, and encourage employers to help students pay off their debt through a Human Capital Tax Credit.
Encourage families to plan and save for college by providing every child with $500 to start a college savings account, giving tax breaks to anyone who contributes to a child's college savings account, and provide college aid eligibility estimates for children as young as 10 years old.
Engage public and private entities to increase public outreach to raise awareness about the benefits of a college education and available financial aid and use as many technologies and mediums as possible to inform students about their financial aid eligibility.
The recommendations resulting from NASFAA's exhaustive NCI campaign are a preliminary step to open and facilitate a dialogue on reforming the student aid system. They are a launch point for continued consensus building, support, and eventual enactment of reforms needed to eliminate the financial barriers to higher education.
The report is available online in PDF format at: http://www.nasfaa.org/PDFs/2009/NCIPreliminaryRecs.pdf.
About NASFAA's National Conversation Initiative
The National Conversation Initiative (NCI) on Access and Aid for Student Success was launched to develop, promote and implement a financial aid system that effectively eliminates financial barriers to higher education. NASFAA launched the NCI because the current student financial aid system needs a drastic overhaul. The model developed through the NCI process is responsive to the needs of today's students and emerging demographic, workforce, and economic trends. It will also provide expanded opportunities to disadvantaged populations and help close the gap between the "haves" and the "have-nots." The NCI recommendations were crafted with the assistance of a renowned group of student access policy experts, a broad-based group of prominent financial aid directors, and NASFAA regulatory and legislative experts who scrutinized and examined more than 40 recent research projects on college access and financial aid. Most importantly, these recommendations represent and summarize the collective wisdom of thousands of financial aid administrators across the country who participated in the NCI process through 18 town hall meetings, online forums, and personal correspondence. For more information about NCI, visit the National Conversation Initiative Resource Center.
About NASFAA
The National Association of Student Financial Aid Administrators (NASFAA) is a nonprofit membership organization that represents more than 20,000 financial aid professionals at nearly 3,000 colleges, universities, and career schools across the country. Each year, financial aid professionals help more than 16 million students receive funding for post secondary education. Based in Washington, D.C., NASFAA is the only national association with a primary focus on student aid legislation, regulatory analysis, and training for financial aid administrators. For more information, visit http://www.nasfaa.org.
Media Contact:
Haley Chitty
Director of Communications
(202) 785-6959
###