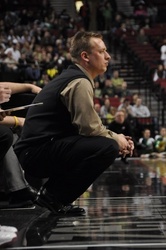 I can't imagine a better fit for George Fox. We're excited about his basketball credentials, but we're also excited about the ways he will invest in the lives of our students off the court as well.
Newberg, OR (Vocus) July 26, 2010
Michael Meek, who coached Southridge High School of Beaverton, Ore., to five of the last six Oregon large-school classification girl's basketball state titles, has been named as the new head coach of the George Fox University women's basketball program.
Meek will be introduced to the media at a press conference on Monday, July 26, at 11 a.m. in Sky Bridge A in Building 2 of the World Trade Center Conference Center at 25 SW Salmon Street in downtown Portland. He replaces Scott Rueck, who was hired on June 30 to coach the women's program at his alma mater, Oregon State University.
During Meek's tenure as coach, Southridge was perennially ranked in the USA Today and MaxPreps national rankings. MaxPreps this spring recognized Southridge as one of the top 10 high school programs in the nation.
In 10 seasons at Southridge from 2000-10, Meek was 213-58 (.786), and has a career record of 264-79 (.770) which includes three seasons at La Grande (Ore.) High School from 1997-2000. He earned a slew of coaching awards during his time at Southridge, including the 2005-06 MaxPrep National Girls' Basketball Coach of the Year. He has won six statewide Coach of the Year awards while coaching at the highest level of high school athletics in the state, and 19 of his players have gone on to play college basketball.
Meek also has developed the Nike Northwest Girl's Basketball Invitational, which attracts some of the top high school teams on the West Coast.
"We have hired Oregon's most successful current high school girls' basketball coach," said Craig Taylor, director of athletics at George Fox. "I can't imagine a better fit for George Fox. We're excited about his basketball credentials, but we're also excited about the ways he will invest in the lives of our students off the court as well."
At George Fox, Meek inherits a perennial NCAA Division III national power. In 2008-09, with 10 freshmen on the roster, the Bruins won the national title with a 32-0 record. Nine letterwinners are expected to return from the 2009-10 team that went 28-3 and reached the 'Elite 8' of the NCAA Tournament. Included in the returners are two First Team All-Northwest Conference players, 5-10 wing Keisha Gordon and 6-5 post Hannah Munger. It is also anticipated that six new recruits, two of them all-state selections and the other four all-conference honorees, will join the program this fall.
Meek played basketball at Tacoma Community College and Eastern Oregon University, where he earned a bachelor's degree in physical education and health in 1999. He earned his master of arts in teaching from Grand Canyon University in 2004.
In addition to his coaching duties, Meek will teach and perform other roles in the department of Health and Human Performance.
George Fox received more than 30 applications for the position and brought two finalists to campus for interviews. The search committee included director of athletics and committee chair Craig Taylor, associate director of athletics Steve Grant, softball coach Jessica Hollen, special assistant to the president Fred Gregory, faculty athletics representative Kerry Irish, and three members of the Bruin basketball team: Gordon, Carrie Myers, and Arianna Mohsenian. University president Robin Baker served as ex-officio member of the committee.
George Fox University is ranked by Forbes as one of the top 100 colleges in the country and highest among Christian colleges. George Fox is the only Christian university in the Pacific Northwest classified by U.S. News & World Report as a national university. More than 3,300 students attend classes on the university's campus in Newberg, Ore., and at teaching centers in Portland, Salem, and Redmond, Ore., and Boise, Idaho. George Fox offers bachelor's degrees in more than 40 majors, degree-completion programs for working adults, five seminary degrees, and 12 master's and doctoral degrees.
# # #