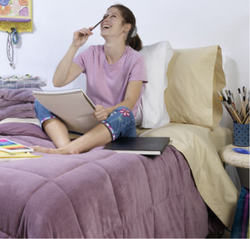 Several of our products provide a barrier against dust mites and bed bugs and relief from other allergens.
Wilmette IL (PRWEB) July 24, 2007
This summer, as they open their housing packets and schedule their orientation sessions, college-bound students and their parents are discovering that their favorite sheets and blankets won't fit on dorm room beds. Why? Nearly all colleges and universities have converted to the longer, Twin XL mattresses. Known as "college bedding size", the twin extra long bedding size will be in demand throughout the United States.
The moms behind the hit college bedding retailer, Campusbedding.com has the solution. They are scoring high marks among the back-to-school crowd with their commitment to the idea that all college kids deserve the same sleeping comforts they have at home. Peggy Allen and Ronda Pierson are providing products that have become a fast favorite among students and their parents desperate to find quality bedding for the Twin XL beds that are a standard at colleges, universities and even prep schools.
Back-to-school spending ranks second only to the holiday season in retail sales. Almost 100% of online shoppers are motivated primarily by saving time and simplifying their lives. In addition, the majority of these shoppers are women and many are moms who appreciate the convenience of shopping on the internet as well as the ability to speak with another mom who understands their problems. When it comes to finding Twin XL for the college-bound child, Campusbedding.com is the solution.
Obsessed with high thread counts, hypoallergenic and all-natural feather and down products; Allen and Pierson designed exclusive products for their rapidly growing company. Twin XL sheets, Twin XL comforters and Twin XL mattress pads and Twin XL featherbeds are just some of the choices they offer. "Protection matters too," says Pierson. "Several of our products provide a barrier against dust mites and bed bugs and relief from other allergens." By working directly with leading manufacturers, Allen and Pierson ensure both high quality and low prices.
In addition, CampusBedding.com's high standard for personalized customer service has helped spread the word among anxious moms who are overwhelmed with getting their oldest children off to college. As Allen says, "You can hear the relief in their voices when parents call and realize they're talking to a mom who's been there, can really help and, frankly, will really listen." Campusbedding.com takes the stress out of searching for hard to find, high quality Twin XL bedding.
When kids get their college admissions acceptance letters, few realize they will also get a notice that their favorite sheets and blankets just won't fit. Until CampusBedding.com came along, their only option was polyester-blend, rough, scratchy, low thread count sheets and blankets. "When my daughter's college sent a flyer recommending low thread count polyester sheets, I knew we had a problem," says Allen. "It was clear right away that someone needed to fix this."
Allen and Pierson spent over a year developing the Campusbedding.com product line before launching their website. According to Pierson, "We know parents want their kids to have the same sleeping comforts as home. Parents want to feel good knowing their kids are settling into quality, all-natural cotton and down products and innovative down-free alternatives. We kept that in mind with each product we selected."
###