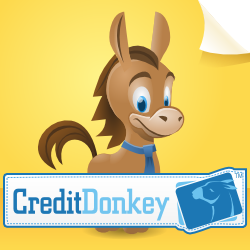 student loan debt, which is not routinely discharged in bankruptcy, surpassed credit card debt in mid-2010
Los Angeles, CA (PRWEB) September 06, 2011
With 20 million students enrolling in colleges and universities across the U.S. this fall, and student loan debt now exceeding credit card debt, CreditDonkey has dug into higher education statistics to determine if the cost of education and resulting debt pays off.
Infographic: http://www.creditdonkey.com/education-earnings.html
While American consumers are cutting back on credit card, mortgage, home equity and auto loan debt, student loans are on the rise, according to the Federal Reserve Bank of New York. The total student loan debt burden could hit a historic $1 trillion before the end of this year, some financial aid experts predict. Total student loan debt, which is not routinely discharged in bankruptcy, surpassed credit card debt in mid-2010.
"Nearly 61 percent of 25 to 34 year olds in the US have some amount of college education," said Charles Tran, founder of CreditDonkey. "And while these individuals gained some exceptional knowledge in the classroom, you have to ask if the cost of that knowledge has paid off for them; especially when 66% of those with bachelor's degrees graduate with debt and are entering into a workforce where over 9% of the general population is unable to secure employment."
Historical and contemporary data show education has a positive effect on an individual's lifetime earnings; however, recently compiled data from the U.S. Census Bureau shows that education does not overcome the influence of a person's demographics. Men, for example, generally make more than women at all levels of educational attainment.
Volume of Students

Number of people gaining higher education is increasing: 70% of high school graduates in 2009 enrolled in 2- or 4-year programs the fall after their senior year; 51% of high school graduates in 1975 did the same
Number of adults returning to school is also on the rise: the number of college students ages 50 to 64 increased 17% between fall 2007 and fall 2009
Volume of Debt

Federal and private student loan debt has now surpassed credit card debt: as of 2010, there was $830 billion in student loan debt versus $827 billion in credit card debt in the U.S.
Student borrowers are indicating that their debt is affecting their life: 48% say the debt makes it harder to pay bills, 25% state it has made it more difficult to purchase a home, 25% has said it has affected their career choices and 7% state is has caused a delay on marriage or starting a family
The Pay Off

The higher the degree, the lower the unemployment level; but higher education does not wipe out unemployment entirely. Here are the unemployment rates being seen by those with collegiate degrees: associate – 7.0%, bachelor's – 5.4%, master's – 4.0%, professional – 2.4%, doctoral – 1.9%
The same is true of income, with the median weekly earnings increasing with the education level: associate - $767, bachelor's - $1,038, master's - $1,272, professional - $1,610, doctoral $1,550
Despite the increased income and decreased unemployment rates, only 5% of the general public think college is a good value in 2011; however, 86% of college graduates say that college has been a good investment for them personally
U.S. Census Bureau data indicates that gender and race also plays into the income equation, with higher education providing a greater payoff for males in general, and White males with professional degrees making more than other groups
Some critics of these borrowing trends are concerned the amount of student loan debt is rising too quickly and that consumers are not wisely balancing costs, risks and benefits in choosing colleges and universities or selecting major fields of study that are connected to the demands of the 21st century workforce. Other skeptics would like to see more of this money invested directly in entrepreneurial activities and business development, rather than tying it up in higher education, an investment process that will take longer for the money to be put to good use in spurring economic growth and job creation.
"The true value of education ultimately has more factors than unemployment rates and income," said Tran. "If education is going to help an individual reach their goals, then they are going to view it as a worthwhile investment. But they should still carefully consider whether it's worth taking out a student loan or charging expenses to a student credit card. That's a major financial decision that's going to remain an influence for years to come."
Parents and students can visit CreditDonkey, a credit card comparison website, to evaluate student credit card offers. CreditDonkey publishes credit card research, informed opinions and related news/trends that empower American consumers to make informed credit decisions.
###