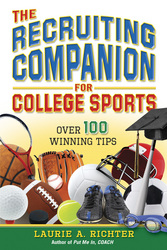 The greatest compliment to Laurie Richter's book is that our coaches found it to be a solid road map of the
Riverwoods, Illinois (PRWEB) October 22, 2009
Laurie Richter introduces The Recruiting Companion for College Sports: Over 100 Winning Tips, to give high school athletes the tools they need to be successful taking a do-it-yourself approach to college football recruiting, college basketball recruiting, and recruiting for all other college sports. As the author of Put Me In, Coach: A Parent's Guide to Winning the Game of College Recruiting, and parent resource specialist for berecruited.com, the largest online college athletic recruiting network, Ms. Richter brings a unique perspective from her experience accompanying her son, a college basketball player, on his recruiting journey.
Presenting a step-by-step approach to getting recruited, Put Me In, Coach has been praised by both well known coaches, and professional athletes. Coach Mack Brown of U.T.Austin football had this to say: "The greatest compliment to Laurie Richter's book is that our coaches found it to be a solid road map of the "how to's" of the business. It is accurate, fair, and gives valuable insight to parents and young people." Retired U.T. Austin women's basketball coach Jody Conradt, said "This book provides a refreshingly accurate and honest assessment of the recruiting process and solid advice on how to manage it. This is an excellent guide." It was also an award-winning finalist in the college guides category of the National Best Books 2009 Awards, sponsored by USA Book News. Designed as a companion to Put Me In, Coach, The Recruiting Companion is an easy-to-read tips booklet containing standalone chapters that will guide both student-athletes and their parents in the right direction about college recruiting and athletic scholarship topics that are crucial when they need them the most.
Student-athletes will gain insider insight from the chapters on "The little white lies coaches tell recruits" and "Some important questions you might not know to ask."
Parents will find "What no one tells you about athletic scholarships" and the chapters on "How parents can help and hurt in the recruiting process" particularly helpful.
And everyone will benefit from "Top recruiting disasters and how to avoid them."
Families who are willing to roll up their sleeves and manage the recruiting process themselves find that there is a real lack of common sense advice and information out there. As a result, too many families end up hiring expensive recruiting services, or depending (unsuccessfully) on high school and club team coaches to manage recruiting for them. Recruiting is well suited to the do-it-yourselfer once they understand the steps to take and the pitfalls to avoid.
As a parent who experienced the recruiting process with her son, Laurie knows what athletes and their parents are up against. The Recruiting Companion for College Sports is full of ideas that can provide the knowledge and confidence high school athletes need to move from aspiring college athlete to recruited college athlete. It is available in ebook format so it can be quickly downloaded and read on virtually any computer, ebook reader, or PDA including the iPhone and iTouch. Download a free sample chapter of The Recruiting Companion for College Sports. It can also be found at beRecruited.com, Amazon.com, or Smashwords.com.
About Laurie Richter
As a marketing research professional for 24 years, Laurie Richter, PhD, has tackled all kinds of assignments. But it was as a parent that she faced her most challenging research project to date: figuring out the complex and mysterious world of athletic recruiting so that her son Dylan could choose the right school and continue playing basketball. When Dylan started attending classes and shooting hoops at Washington University in St. Louis, Laurie started writing her first book, Put Me In, Coach, to give parents and high school athletes a step-by-step plan for getting recruited to play sports at the college level. Laurie's second book provides additional recruiting tips and insight in an easily accessible ebook format. Learn more about Laurie.
About beRecruited
beRecruited.com is the nation's number one online networking destination for high school student-athletes seeking recruitment from college coaches and universities. beRecruited provides a platform for student athletes to connect and interact with college coaches across the nation, giving students the tools to research and build profiles of verified athletic and academic information, as well as providing coaches with a vast, searchable database of potential recruits. To date, beRecruited has more than 550,000 registered users, including more than 500,000 student-athletes, 17,000 college coaches, 19,000 high school & club coaches and 15,000 parents.
Media Contacts:
Media relations for: Right Fit Press, please contact
Laurie Richter, 847-405-0808, RightFitPress.com
Gail Kearns, 805-898-2263, topressandbeyond.com
###