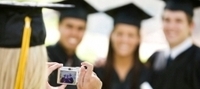 We want as many students, publications, organizations and other websites as possible to help us get the word out on these scholarships, so we encourage sharing. We know there are plenty of scholarships to go around, so just stick with it and you should find one
Garland, TX (PRWEB) July 6, 2009
For more and more students, the dream of college is turning into a nightmare. College finances have changed so dramatically over the last 3 years that many students find themselves having to 'just settle'. Those chasing elite private schools are 'settling' on public schools, those hoping for a top-rate public university are 'settling' on local community colleges - at least for a few years.
According to a recent study by the National Association for College Admission Counseling, more than 70 percent of high schools reported sacrificing their 'dream school' for more affordable options. Approximately 60% of schools said more students chose a public university rather than a private one, and 37 percent said more selected community college instead of a four-year school.
The main driver - finances, and it is coming from both sides. Deep dives in the stock market have driven down family educational savings plans and colleges have raised tuition and fees at rates more than double that of inflation, creating a perfect storm college students must navigate.
To weather the storm, many students are taking summer classes at lower cost schools or starting in 'bargain' schools as a starting point. For some, dream schools are pushed to being a future dream for possible grad school. Financial aid advisers are hearing this story every day as students search for scholarships to help.
It appears to be middle-class students that are getting hit the worse. Those with money can afford their choice university and have no worries; those who can't afford to attend are getting the bulk of financial aid. This has caused it to become more important than ever before for students to leverage all available resources in finding possible financial aid for college.
Scholarships and grants are generally considered the 'holy grail' of financial aid. Most of these do not require the funds to be paid back as long as the student qualifies. However, they are often difficult to find and win. Rapid Guide's student financial aid advice site FinancialAidTips.com is helping change that. They have declared July 4 as an "Independence Day" of another kind. An independence from high college costs.
On July 4, they launched a new, free scholarship website listing their "Scholarship of the Day". Each day, new scholarships are reviewed and a selected scholarship programs will be provided along with a description and how to apply for college scholarships. Students can quickly and easily see if they qualify and could potentially win the award. According to spokesperson Darby Binder, "Our organization helps students entering college, so, we hear a lot about the impact of the economy. We know there is a lot of financial aid that goes unclaimed or has very little competition. Our goal is to make more of it known so students can find scholarships and increase their chance of attending the college they dreamed about."
The site can be found at http://www.scholarships.financialaidtips.com. Not all scholarships will apply to all readers. That makes it important to check the new scholarship each day. FinancialAidTips.com has made that easy by providing the ability to subscribe to a daily email or RSS feed of the posting. Darby adds, "We want as many students, publications, organizations and other websites as possible to help us get the word out on these scholarships, so we encourage sharing. We know there are plenty of scholarships to go around, so just stick with it and you should find one".
###