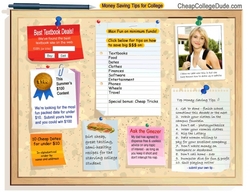 We've tried to simplify saving money, while presenting our tips in a slightly unorthodox way.
Nine Mile Falls, WA (PRWEB) August 19, 2008
Congress is currently working to pass legislation to help reduce the costs of attending college. Currently the average college student spends around $900 per year on textbooks, in addition to the sharply raising cost of tuition. While experts debate how effective Congress will be in reducing the burden of the average college student, others, like CheapCollegeDude.com, aim to help college students save money and live on a tighter budget right now.
With the launch of the new site, CheapCollegeDude.com is providing college students with a plethora of ways to save money, locate cheap college textbooks, find free or discounted software, get clothing bargains, and even create cheap meals that; the site claims are "dirt cheap" and "semi-healthy." The site is also trying to ease their visitor's financials burdens by slating to offer a monthly $100 contest for students who offer their own tips on how to live well on a college budget.
"I learned to live on a tight budget in college, years ago. Now it's my son's turn to do it. And he better do it well as prices have skyrocketed and I'm footing part of the bill," says Scott Chaney, creator of CheapCollegeDude.com. "Most college students could use information on how to live on a budget, stretch the few dollars they do have, and especially find deals on the items they need. We try to provide this sort of useful information in a practical and sometimes humorous way."
Finding the best deals on used textbooks is just one of the hot-ticket items on the site. They also discuss the pros and cons of various phone service options, including using VoIP. And the 'cheap recipes' section should help those living on limited budgets who are cooking in their college dorm or apartments. The site even has multiple ideas on how to liven up "the basic college staple" Top Ramen.
While much of their advice is practical, sometimes their tips are more unconventional. In one "parent play" the reader is encouraged to show up at the airport with duct tape holding their pants together in an attempt to shame their parents into buying them new clothes.
"We've tried to simplify saving money, while presenting our tips in a slightly unorthodox way." says Chaney. "Where else can college students get useful information ranging from cheap textbooks to cheap dates?
About CheapCollegeDude.com:
CheapCollegeDude.com is geared toward helping college students better afford the rising costs of attending college by living cheaply but effectively. The site provides practical tips and advice on how to save on textbooks, finances, clothes, eating, entertainment, transportation, software, and more. To learn more, visit the Web site at http://www.CheapCollegeDude.com .
###