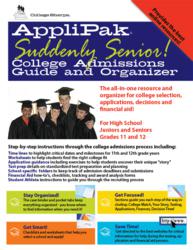 AppliPak Suddenly Senior! helps students and parents throught the college admissions process.
Milwaukee, WI (PRWEB) March 30, 2012
Spring is a time of renewal for many people, but for rising high school juniors and seniors, it can be a time of anxiety and panic in terms of college preparation. The majority of those students, and their parents, wait until well into the junior year of high school to start the college admissions process and discover it may not be as easy as just filling out the admissions applications. Many parents find themselves wondering what needs to happen and at what time to insure they are on top of helping their student plan for one of the most important decisions in life. The AppliPak Suddenly Senior! College Admissions Guide and Organizer takes out all of the guesswork for parents and keeps students on track to prepare for the college admissions journey.
According to the Bureau of Labor Statistics, in 2010, 68 percent of high school graduates went on to enroll in colleges or universities. Although the actual application for admissions doesn't typically happen until fall of the senior year, college selection and admission planning should start early in the junior year. The AppliPak Suddenly Senior! organizer not only provides a roadmap for the junior and senior year of high school, but also includes worksheets and checklists to guide students through the many aspects of the college admissions and financial aid process. The information is contained in a durable plastic case binder that helps students keep all of their college planning information organized.
"I saw a need for the do-it-yourselfer parents and students who feel they can get through the college planning maze without hiring a consultant," said Mitch Clark, owner of College Sherpa, an independent college planning consultant and author of AppliPak and AppliPak Suddenly Senior!. "There are many questions and levels of anxiety about the process that people have that I've addressed in AppliPak Suddenly Senior!. The experiences of my clients have been incorporated into the design of AppliPak Suddenly Senior!. Organization is usually a big problem; even with all of the online resources, the process is still paper-heavy and families find having one place to store college planning materials very helpful. Every student, even siblings in the same family, approaches college preparation and planning differently and AppliPak Suddenly Senior! allows each student to use it however it fits their needs."
AppliPak Suddenly Senior! is the perfect companion for every student to use in conjunction with their high school guidance counselor to insure they are on top of their college planning. The American School Counselor Association (ASCA) recommends an ideal counselor-to-student ratio of 1:250. However, the U.S. Department of Education reports that the national average is 1:457. The National Association of College Admissions Counselors (NACAC) also reported that in 2009-10 school year, 80 percent of secondary schools had counseling department staff numbers frozen and public schools reported an average increase of more than 50 students per counselor. Counselor's can be time-constrained with other responsibilities and unable to provide personalized college planning assistance to students. AppliPak Suddenly Senior! provides students the tools and resources to follow and manage the process themselves and make counselor meetings more productive.
About AppliPak® Suddenly Senior!
AppliPak Suddenly Senior! (http://www.applipak.com) is the all-in-one resource and organizer designed to be used the junior and senior year of high school for college preparation, SAT/ACT testing, college choice decisions, applications, financial aid and scholarships. Stay organized with one place to keep all your information regarding college planning; you'll know where to find it when you need it! Checklists, roadmaps and worksheets help you plan and stay on track with college preparation. AppliPak Suddenly Senior! saves you time by providing the best resources on the web for testing, college applications, financial aid and scholarships.
Features:

Roadmaps, checklists and worksheets for junior and senior year of high school
Durable plastic pocket tabs to store college planning information and materials
Six school-specific pockets and application/financial aid tracking worksheets
Oversized durable 3-ring organizer with locking tabs
AppliPak Suddenly Senior! is available online at http://www.applipak.com for $79.99.
Contact:
Mitch Clark
Executive Director
College Sherpa LLC
Phone: 262-389-9343
mitch.clark at collegesherpa.com
###
AppliPak Suddenly Senior! is published by College Sherpa LLC. If you'd like more information about AppliPak Suddenly Senior!, or to schedule and interview with Mitch Clark, please call him at 262-389-9343 or email at him at mitch(dot)clark(at)collegesherpa(dot)com.