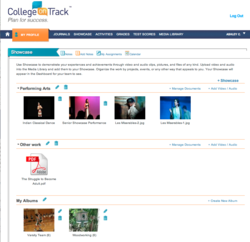 CollegeOnTrack has put together a state-of-the-art Digital Portfolio that is comprehensive and easy to use.
Palo Alto, CA (PRWEB) February 21, 2012
The college admission process is changing. "Over the next ten years, we will see Digital Portfolios replace test scores as the #1 factor in college admissions," says Tina Barseghian of KQED's Mind/Shift. SAT scores and GPAs are no longer enough, as many college admissions officials turn to performance-based methods to evaluate students. They are asking applicants to demonstrate their learning through project samples: audio and video clips, presentations, and other files. CollegeOnTrack's new Digital Portfolios and Journals help schools, families, and counselors assemble and manage these materials.
Digital Portfolios store and highlight major student work. Students upload essays, videos, presentations, and other completed material onto CollegOnTrack. They organize the work into projects and use Journal entries to reflect upon their experiences and outcomes. When projects are finished, they have a record of what they did and what they learned. At application time they collaborate with family, teachers, and advisers to shape their material into concise presentations for college admissions officers.
As Ohio State University's Lauren Hensley explains, "Each ePortfolio becomes a collection of evidence attesting to a student's growth in knowledge, strategies, and skills—an important mastery experience. By selecting from their coursework the items they would like to highlight, students take ownership of their learning and responsibility for their outcomes."
CollegeOnTrack students use Journal entries to reflect upon what they are learning, and communicate their ideas, experiences, and findings. They get comments on their entries through CollegeOnTrack's Dialog messaging module, allowing personal learning communities to develop within the platform. "We're building a learning ecosystem," says Phil Roybal, VP of Marketing at CollegeOnTrack. "Students develop academically and socially as they express their thoughts through Journal entries and shared learning experiences."
Education researchers are noting how this new approach helps increase student academic performance. Studies such as one by LaGuardia Community College show that e-portfolios lead to measurable improvements in student learning outcomes as "students engage more deeply and effectively" with their education. In addition, these tools are boosting the graduation rates and GPAs of at risk students.
A hallmark of CollegeOnTrack's student centered approach, self-assessment plays a critical role in college planning. "Digital Portfolios will help students focus on their strengths and abilities, which should then guide them in making smart educational decisions," says Alice Crawford, Ed.D., an educational consultant in Chicago, IL. As they determine which projects to upload, students are evaluating their skills and interests. They can then use CollegeOnTrack's search capabilities to find programs that meet their needs. Applicants often must choose majors in order to receive financial aid, making it vital that they enter the higher education system with academic plans in place.
Former L.A. County Office of Education project director Bob Tyra says, "CollegeOnTrack has put together a state of the art Digital Portfolio that is comprehensive and easy to use. College admissions staff and department chairs will now be able to review student work to help build a diverse, college ready community."
Digital Portfolios and Journals are available to CollegeOnTrack users at no extra cost. See these new features at http://www.CollegeOnTrack.com. 
About CollegeOnTrack
CollegeOnTrack was established in 2010, to provide college planning tools for families, schools, and counseling firms. It offers a combination of comprehensive college data, collaboration support, and task management that helps students create strong applications while reducing family stress. The company was a semi-finalist in the 2011 Berkeley Business Plan competition.
CollegeOnTrack ran successful tests last year at Wilcox and Independence High Schools in Santa Clara County, where students and teachers have been enthusiastic about the product. It was released to the public in January, 2012.
For more information about this topic, or to schedule an interview, contact Philip Roybal at (408) 782-4244, or phil(at)collegeontrack(dot)com.
###