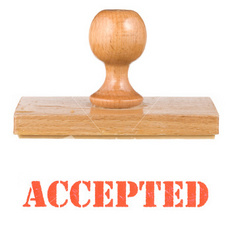 Los Angeles, CA (Vocus) September 23, 2009
For years, the admissions essay site, Pennandpaper.com has successfully guided college and graduate school applicants through a four-step submission process to reach its Ivy League editors for application essay editing. Now, the admissions site has introduced a one-page "essay makeover" tool that allows applicants and interested candidates to upload their personal statements (also called "admissions essays" or "application essays") for prospective admission into competitive colleges and universities. Once uploaded, the application essays are routed to admissions experts and essay editors for review.
"Our new admissions essay editing site attracts applicants who are stressed by college, graduate, business, MBA or med school applications," according to Pennandpaper.com. The essay makeovers on the site are administered by admissions consultants and admissions essay specialists, who have years of college, business school, medical school, law school, and graduate school experience, as well as Ivy League degrees from schools like Harvard University, Cornell University, the University of Pennsylvania, and Columbia University.
Candidates who send their essays through the new PennandPaper.com site have the option of basic service, or premium service. The latter comes with a one-hour admissions essay phone consultation and several days of email with an Ivy League editor who provides applicants with application strategies, and critiques all admissions essays before submission. For college applicants who have not yet written their essay, PennandPaper.com offers advanced service that coaches applicants as they write their college essays/personal statements from scratch, and offers a comprehensive admissions counseling package.
The company welcomes applications from all students, on all levels.
About Penn & Paper
Penn & Paper (PennandPaper.com) is an admissions essay editing service that provides individualized counseling to applicants of all levels. Penn & Paper has helped several applicants seeking admission into competitive academic programs. The company's admissions consulting services strengthen an applicant's chances of getting admitted to college, business school, graduate school, law school, medical school and various fellowships/scholarships. For more information, please visit the company website at http://www.pennandpaper.com , or call (888) 653-0222.
###