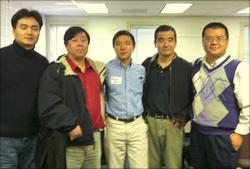 "I learned a lot and I believe that the parents who attended would echo my sentiments. You are a great speaker, very on point, very personable, and of course very informative."
-- Julia Chou, Principal of the MLCCC
Arlington, Virginia (PRWEB) June 06, 2013
A series of seminars designed to help demystify the college admissions process will be offered by Civica Global throughout summer 2013. With college admissions rates continuing a downward trend in 2013, Civica Global Founder and CEO Ashley Baker will be offering advice to help students succeed in an increasingly competitive admissions environment.
Civica will be hosting a free seminar from 1:00-2:30 pm on Saturday June 15th at the Westover branch of the Arlington Public Library. This is the second of a series of seminars to be held this summer by Civica. The topic of this seminar will be "making the most of your summer." Summer activities are increasingly important in the college admissions process. The goal of the workshop will be to help students utilize community activities such as volunteering, organizing events, helping with summer camps, conducting researching, and studying for the SAT/ACT. Civica's experts have a wide web of connections among students and faculty at top 20 colleges (US News and World Report) and beyond and are eager to share their insight. Attendees should come ready with any questions they have about the admissions process.
Additionally, Civica Global's Founder and CEO, Ashley Baker, has published "Six Weeks to Success: College Admission Secrets and (Un)Common Application Strategies Revealed," which is available on Amazon.com.
To learn more about this upcoming event, please contact Ashley Baker at (704) 214-0542 or at ashley[at]civicaglobal[dot]com.
About Civica:
Civica Global is a group based in Washington, D.C. committed to providing college admissions solutions to high school students and their parents. Civica's mission is to help students choose and achieve admission to the colleges that best help them realize their long term personal and professional goals.
Civica's Approach:
Most college admissions consultants are just that. They tell you how to present your accomplishments in the best light to gain admissions to the most appropriate colleges.
Civica Global products and services go well beyond that. First, Civica asks students to embark on a process of self-discovery. In addition to activities and accomplishments, what are their interests? What are their long-term personal and professional goals? Civica helps students mine every aspect of their lives, both to establish these goals, and to find narratives that will appeal to admissions committees.
Second, Civica encourages students to be ambitious and realistic in generating a list of prospective schools. They stress getting to know the potential schools. In addition to providing helpful information such as school reputations and statistics, Civica teaches students to connect with admissions officers, university administrators, deans, faculty members, athletic groups, student organizations, and ROTC organizations.
Third, Civica helps students craft superior applications and address every aspect of the application: overall strategy, essays, standardized tests, resumes, and interviews. Civica understands that the college admission process can be stressful, and therefore present proven strategies to manage stress.
Fourth, Civica assists students in evaluating admissions offers. They ask students to carefully consider majors, courses, programs, extracurricular activities, internships, and career paths, as well as location and financial aid, and how they relate to students' personal and professional goals.
Finally, Civica works with students to chart a plan for their college years. They present course management and career management strategies, as well as special advice for pre-law students, pre-business students, students who may be interested in graduate school in the humanities, young women, ROTC students, and students with disabilities. (Out of every ten hours Civica spends helping prepare students for college, they spend one hour providing our services free of charge to students with disabilities.)
For more information please visit http://www.civicaglobal.com.