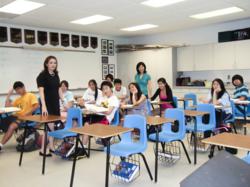 I was unfamiliar with today's college admissions process, and as my two sons entered their senior year of high school I became worried that they were at a disadvantage. My Civica Global Consultant was extremely reassuring and helpful throughout the year.
Washington DC (PRWEB) June 04, 2013
Civica Global Admissions Consulting LLC is now operating out of Washington, D.C. Civica Global Admissions Consulting Founder and CEO Ashley Baker decided to make the move due to the high number of college applicants in need of assistance in this area. Civica Global helps high school students navigate the application process. Their services can involve everything from choosing the right schools to apply to, writing admission essays, navigating the Common Application, securing the best recommendations, applying for financial aid, and everything in between. Civica engages in ethical practices and will not charge exorbitant rates. Every two weeks, Civica hosts a seminar on a different topic in the college admissions process. For example, last week the topic was "Selecting the Best Fit school".
On May 15, Civica will be hosting a seminar at the Westover branch of Arlington Public Libraries from 1:00-2:30 PM with the topic "Making the Most of Your Summer". For more information about how Civica Global Admissions Consulting can help you achieve your college admission goals, please email info(at)civicaglobal(dot)com or call (704)214-0542.