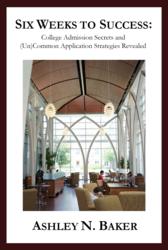 Six Weeks to Success" has already been a hit among my high school students. The six-week plan is simple, yet very revolutionary in the college admissions process. This book is truly one of a kind. As a high school guidance counselor of over twenty years,
Washington DC (PRWEB) June 07, 2013
Ashley Baker, Duke University graduate and Founder and CEO of Civica Global Admissions Consulting, LLC, authored "Six Weeks to Success: College Admission Secrets and (Un)Common Application Strategies Revealed". It took awhile for the book to gain popularity, but as high school students discovered the invaluable advice from this college admissions insider, sales skyrocketed in May 2013.
Ms. Baker's book demystifies every aspect of the college application process. Through its week-by-week program, Six Weeks makes it easy for high school students to create their best college applications, using self-exploration, personal brand statements, college research, networking, and writing tips. Six Weeks covers every topic from early application and standardized tests, to special considerations for athletic, artistic, and legacy students, to evaluating and ultimately accepting an offer of admission.
Aside from the six-week program, Six Weeks includes guides for pre-law, pre-business, pre-graduate school, and pre-military students, and for women, students with disabilities, and international students. This book is part of a larger campaign, Civica Global Admissions Consulting, which provides services for students in need of help with their college applications.