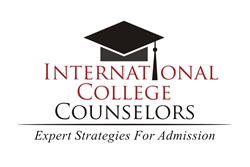 Keeping organized is the best way to complete what will seem like a daunting task.
Miami, FL (PRWEB) July 28, 2014
On August 1, the Common Application goes live, and students can start filling out applications to the over 500 colleges that participate in the program. These schools are in 47 states and the District of Columbia, as well as in Austria, France, Germany, Italy, United Kingdom, and Switzerland. The colleges and university members are of all sizes and missions and include public and private schools, even the Ivy League schools.
"Keeping organized is the best way to complete what will seem like a daunting task," said Mandee Heller Adler, CEO and founder of International College Counselors.
Here are some other tips from International College Counselors.
Keep pertinent information easily accessible.
Print out the following and put it in an expandable folder. Then don't lose track of the folder.

Social security number
Family information—parents' or guardians' legal names, addresses, occupations, employers, colleges they attended, years they graduated, and degrees they hold
High school's information—address, date of entry to the school, and the guidance counselor's full name and contact information
Scores on standardized tests, including the SAT or ACT and AP, IB or SAT Subject test scores
Copy of the student's high school transcript which will be helpful for filling in previous courses and grades.
A list of the high school courses currently enrolled in
A list of the college credits earned if taken through a college
A list of summer jobs, extracurricular activities, honors and awards received
A credit card for the payment of the application and to send the test scores
Financial aid plans (Are there plans to apply for need-based financial aid or merit-based scholarships?)
Students applying as an in-state resident will usually need to show a few documents for proof.
Get started on or keep finessing the Common App essay.
The 2014-15 Common Application Essay Prompts can be found on the Common Application site.
Work on a resume, if required.
Students can attach a resume only if a specific school asks for it. There will be an upload area for it within the college's writing supplement.
Keep track of all progress on the Common App.
Students can do this by checking the completion Dashboard. When submitting the application, some materials must be submitted together, while others can be submitted independently. The entire Common App must be completed before it is submitted.
Track all dates and deadlines on a calendar.
This can be accomplished on an old-fashioned wall/desk calendar. Another way to keep track is to program the dates into the phone and set it up to send alerts as the deadlines approach.
Keep a folder for each college of interest.
This will help ensure that all the printed materials, notes, correspondence, passwords, and photos are kept together. They will all start running together otherwise.
Know the requirements of each college.
Some colleges require applicants to submit writing supplements. These supplements may only be submitted after Application materials have been submitted. Optional writing supplements are not really optional and a number of schools have already posted theirs for the upcoming year. Some colleges give interested applicants the option to complete and submit an Arts Supplement as part of their application. Some member schools replaced the Arts Supplement with Slideroom.com integration. Students need to make sure they know the requirements of each college they plan to apply to.
Make printed records or screenshots.
Whenever an email to a school or interviewer is sent, or a response is received, print it out and add it to the folder. Also take screenshots of completed applications and confirmations. One student used a screenshot to prove his application was not late and it worked. It's best to keep all this together.
Break down the tasks. Set manageable goals.
The application cannot be completed in one night or even one weekend. Taking it all on at one time is going to be overwhelming. Pick a date for contacting teachers, counselors, or coaches who are writing recommendations. Set time aside to really work on the essays. Then remember to check the application over multiple times before you send it.
"Students should look at the Common Application as a challenge and not a chore. If anything, the process will allow them to hone needed organizational skills and learn more about themselves," said Adler.
UPCOMING EVENTS
August 21 8pm – Books & Books Coral Gables
What should every public school student know about college admissions? Come hear author and CEO of International College Counselors, Mandee Heller Adler, as she reads and discusses her new book, From Public School to the Ivy League: How to get into a top school without top dollar resources.
ABOUT INTERNATIONAL COLLEGE COUNSELORS
This year, college advisors at International College Counselors helped more than 300 students find, apply to and gain acceptance into the college of their dreams. The expert college counselors at International College Counselors are dedicated to helping students and their families successfully navigate the college application process.
For more information on International College Counselors or to contact an expert college counselor, please visit http://www.internationalcollegecounselors.com.