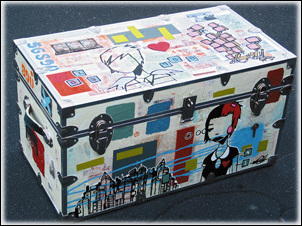 The students are buying their footlockers for the safety and privacy function they're made for, but we've really been impressed by how creative they were in personalizing them
Boyd, WI (PRWEB) August 8, 2006
Five female and five male "sticker artists" considered national masters of the emerging street art medium applied their creative talents to identical footlockers in pursuit of more than $1,200 in prizes in the "Trick Your Trunk" contest. Online community voting at Trick Your Trunk contest ending Nov. 1, 2006, will determine the winner of the contest, which is being sponsored by C&N Footlockers, makers of the popular "Undergrad" footlocker, and PEEL magazine, The Magazine of Stickers, Stencils and Street Art.
College students decorating their C&N footlockers with techniques similar to those used by sticker artists inspired the contest, said Ed Holand, vice president of C&N Footlockers. "The students are buying their footlockers for the safety and privacy function they're made for, but we've really been impressed by how creative they were in personalizing them," Holand said. "We wanted to see how high some of the top sticker artists in the country could raise the bar, and they've raised it quite a lot. These 'Trick Your Trunk' entries should really inspire our college customers."
The 10 contestants were selected from hundreds across the country by the staff at PEEL magazine, a recognized leader in showcasing sticker art and the emerging community surrounding the art form. "We're very excited about the opportunity to collaborate with C&N Footlockers to showcase work from some of the most talented sticker artists in the nation. Both durable and functional, Footlockers from C&N make an excellent canvas for artists, and anyone else for that matter, to express themselves visually."
Each artist was supplied with an "Undergrad" footlocker, No. 1103, in their choice of the 10 available colors. Holand said the "Undergrad" was chosen because dimensions – 30-inches wide by 16-inches deep by 16-inches high – have made it a popular choice among college students. The "Undergrad" easily doubles as a useful extra coffee table or bench in dorm rooms or the typical smaller student apartment, and it's sturdy construction and ability to be securely padlocked have made it favorite for secure, private storage of laptop computers, cell phones, iPods, calculators and other valuables familiar to today's students.
And to reward all those casting their votes at Trick Your Trunk contest, one lucky voter will be selected at random and awarded their own "Undergrad" footlocker.
Contest prizes will include full color sticker printing from Sticker Robot, art supplies from Art primo, urban apparel and accessories from Brooklyn Industries, street art stickerpacks and magazines from GORILLAmART, and autographed skate decks and DVDs from Endustrial Skateboards.
Sticker art involves the application of original or altered stickers, paints or other medium the artist chooses. The art form got its start on the urban streets, but its dynamic visual impact and endless potential have made it a force recognized by the art world at large.
About C&N Footlockers:
Located in Boyd, WI., C&N Footlockers for 20 years has been manufacturing rugged steel footlockers for the college student, the summer camper, military and more. Visit C&N Footlockers.
About PEEL magazine, The Magazine of Stickers, Stencils and Street Art:
A passion for sticker and stencil street art prompted husband and wife team Dave and Holly Combs of Indianapolis to publish PEEL, first as a DIY subculture zine, and currently as a full-sized full-color magazine with international distribution and a worldwide following. Visit PEEL magazine.
###